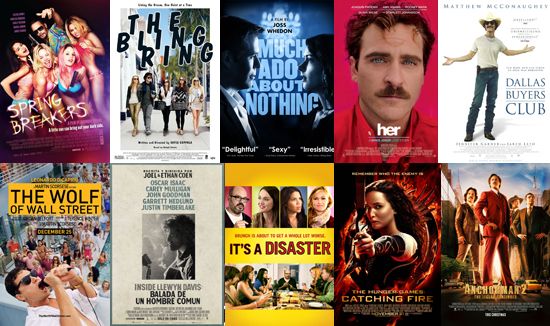 Spring Breakers
Swag-tastic trip to the Disneyland for the YOLO generation : think #neonnightmare or a #dubstepfairytail. I'm pretty certain that's exactly what 'Tumblr: The movie' would look like. And being a part of the ADD generation, I can't help but love all the crazy imagery, rave-friendly soundtrack and Disney-stars-gone-rogue cast.
Bling Ring
Another dreamy trip into the lives of the media-savvy youth of the 00s. Sophia Coppola keeps her poker face and never makes it clear what we're getting here: a satire about Young Hollywood or a spin-off of 'MTV Cribs'. One thing for sure: being a celebrity thief in LA surely looks like a hell lot of job – you're like totally have to look, like, hot and stuff.
Much Ado About Nothing
Joss Whedon never shied away from Shakespearean themes in work but this time he went as far as making his own version of the classic story about two stubborn lovers with big hearts and sharp tongues. His modernized version of 'Much Ado About Nothing' (which keeps the original dialogs) is all charm – it's a house literally filled with Whedonverse darlings spitting tongue-twisting retorts with the same passion they used to fight forces of darkness before.
Her
The movie based on a satirical idea of a man falling in love with an OC (which does have a ridiculously sexy voice) turned out to be one of the most heartfelt and thoughtful love stories of the recent years. This tech-romance requires zero upgrades: it's perfect just the way it is.
Dallas Buyers Club
True heroes rarely look heroic. They also rarely look like Matthew McConaughey, but if anything the movie proves there's more to this guy than his romcom past. Much more. It takes a lot of talent to take away attention from Jared Leto playing a transgender women and Matthew pulls it off in a heartbeat. It's a top-notch performance that screams Academy Award.
Wolf of Wall Street
3-hour-long roller coaster ride down the greedy and hilarious lives of Wall Street's colorful baddies. Leo bares all of his talents here (often – literally) and wins big: it's by far his most masterful and diverse performance.
Inside Llewyn Davis
Being a folk singer is never easy. Especially if you have a pretty shitty personality. The titular character of Coen's vintage drama is hardly a nice guy but any creative person can easily relate to at least some of his struggles while enjoying a fantastic supporting cast.
It's a Disaster
Here's a movie about LA residents dealing with the Apocalypse which does not feature James Franco or a rape scene with the Devil. This indie flick tells a story of a 'couples brunch' that took an expected turn after the guests realized that the End of the world may prevent them from enjoying the main course. Best part: that's probably how people would behave to the unexpected Apocalypse in real life. It's always sad to hear that your favorite organic coffee shop was destroyed by a nuclear explosion.
Hunger Games: Catching Fire
Just when it looked like we'd never get a decent teen franchise again, we got 'Hunger Games' – stylish and brutal story about rebelling against the government machine, which pays much more attention to the actual uprising rather than teen love (thank God!). The sequel surpasses the original on almost every level and leaves you begging for more.
Anchorman 2
Simply the most hilarious comedy in the past several years. Never vulgar and always playful, it follows one simple rule: 'the random is God'. And when the execution is that good, it's hard to argue that it really is a winning formula. Other lesson learned: never trust a shark names Dobby.