My interview with London-based French pop producer/genius Dimitri Tikovoi was very spontaneous. I was interviewing Maya von Doll (of SohoDolls) before her solo gig in Moscow this March. Turned out she had arrived with Dimitri Tikovoi, her producer and collaborator on Nicola Roberts (brilliant) album. 'Let's do an interview, once I'm done with Maya' – I suggested to a man, responsible for a long and diverse list of marvelous tunes, from Placebo's 'Meds' album to Sophie Ellis-Bextor's 'If I Can't Dance' (one of her best yet underrated songs). Obviously, I was curious about Tikovoi's future plans and even managed to make him (kinda) comment on Sugababes 1.0 future reunion. Consider it your pop exclusive.
I wrote a short sum up of our interview for the April issue of Russian 'Rolling Stone' magazine, which you can see below.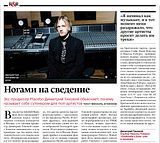 The full interview's under the cut.
Our conversation begins right after Maya's show. A glass of free champagne makes a battle of out accents (his French versus my Russian one) much friendlier. Dimitri smiles a lot, asks about my job and seems very relaxed. After all Maya, his protege, just made the whole 'Art Academy' club fall in love with the songs he had produced for her. That's quite a nice beginning for a fun evening in Moscow.
How did you start working with Nicola Roberts?
Her record company called me, because this is the same label that works with Sophie Ellis-Bextor. She's great by the way!
Oh yeah, I interviewed her a while ago, she's amazing.
I just saw her on Friday now. But now she's having a baby, but I write new songs for her. We did a song for her with Maya, it's for Sophie's future album.
They should do a duet!
That's what we said, maybe for Maya's album.
Maybe incorporate Nicola as well, make a new dream girlband.
Yeah! Put them all together. I'm like a pimp for pop people [laughs].
That's what Maya told me – that you're good with connecting people.
I think it's a part of doing music. Music is how people interact with each other. So it's good to put people in touch, 'cause you never know what's gonna happen. And it's always just good fun.
What's your background?
I'm from Paris. I started playing drums when I was 7, then I grew up playing guitar and keyboard. I played in several bands and then decided to study music, so I went to study classical music. Then I started to produce and write for French artists, almost by accident, I never wanted to do it. And then one day I got a call from a big French artist who asked for my songs for her album. It was Guesch Patti and I ended up producing her album. She was very big in France. Then I started working with a lot of French artists. But I didn't want to produce, I wanted to be a musician myself. I kept telling people I didn't wanna do it, but they kept asking me, so I kept doing it. So eventually I gave up as I got more and more involved. It's very creative anyway.
Dimitri in studio with Placebo in 2005
Do you still perform?
I did try, but now I prefer being in the studio. I had a project called 'Trash Palace'. It was an electronic album, where I collaborated with Brian Molko from Placebo, Asia Argento, John Cale from The Velvet Underground, Marc Almond. So it had lots of guests and we did a few gigs, which was fun, but now I like working for other people rather than for myself.
You're mostly working with pop artist these days, right?
I do both. I worked with a lot of indie bands in the past, like Placebo, The Horrors, Goldfrapp, Moby. It was a bit by accident, and at some point, 2 years ago, I decided to be more creative. Instead of just directing people I decided to get more involved and started to play on the records and that's how I started to work with more pop artist, as there's more space to create for me. I can get very involved, it's a real collaboration. While with the bands sometimes it feels more like a babysitter's or psychoanalyst' job, although I do miss it sometimes. You direct them, but you're not involved directly. My rule with the bands was always 'I won't touch any instruments'. So I talk to them, but my only instrument were psychology and the sound. But with artists like Nicola, who doesn't play, I become the band. It's just about trying different things and keeping it fresh.
You probably have lots of funny stories. Anything you can share? Like that's not funny, but Nicola was going to studio even when she was very sick. That's fascinating to me.
Let me think… [Long pause while we're drinking more champagne] Okay, I got a story. It's not funny-funny though. I worked with Sophie, it was around 2006. My management set up a meeting with her, it was very nice. I booked the studio, it was our second day. Sophie's getting late and I get a phone call from her manager saying she's not coming. I was like 'Why?'. He said: 'She's in a hospital having a baby'.
What songs did you do for her?
The one on the last album and 'If I Can't Dance' for her previous one. That track, I think, should've been a single. And I did some more, but can't remember the names, sorry.
Do you ever want to work with American artists?
I do. But I'm based in London. When I left France I had to make a decision: London or LA. And I chose London because I preferred the music, I think British artists are riskier. Right now I'm working with a new artist Mikky Ekko. He's signed now and he's gonna be massive. He's unbelievable. I went to see him live and he's fantastic. It's one of the best live performances I've seen. His voice reminds me of Jeff Buckley and I've seen Jeff live. Mikky's on the same level. His music is corky and electronic, but really emotional. I wrote several songs for him.
Are you gonna be involved with Girls Aloud reunion next year?
I don't know.  All the girls in the band are so different: Cheryl's the people's person, Nadine's got great voice, Nicola is the arty one and I know less about the other ones. I love the mix of their personalities, they balance very well. But they have to comeback with a new sound, although they always had great songs.
Are you gonna work with the re-formed original line-up of Sugababes?.. Oh, you can't talk about that.
Maybe it's happening [laughs].
That's funny – Siobhan Donaghy was my first ever interviewee I had, so it's funny now she's back with the Babes. So theoretically speaking: if you were about to work with the Sugababes, what would be the direction?
It's interesting. When Sugababes first came out, it was like 'Wow!'. The girlband doing that, it's really cool, not cheesy. And I think they're even better now. So for them to have a comeback, they need to comeback with something ballsy that will make people go 'Whoa, I wasn't expecting this from a girlband'. I think it's a good project.
Will we hear anything this year?
Yeah, maybe by the end of the year or the beginning of the next year.
So everyone's coming back in 2013, huh?
Yeah, wait for Spice Girls reunion [laughs].
What other artists did you work with?
I'm with BeBe Black, she's signed to Colombia and her stuff's coming up in September. She's got a big voice like Adele or Amy Winehouse but the music is more electronic. I'm doing her album. There's some kind of 'Twin Peaks' drama in there. There are also some La Roux elements. So imagine Adele, Twin Peaks and La Roux, that's it. There's also another new artist – Charli XCX. She's already released an EP, I worked with her and she's great.
Bebe Black live
Who'd you like to work with?
New artists. I'm all about new people now. I want to find new people.
How do you discover new artists?
I actually try to find new people all the time. And I just started new production company now. And the record companies also come to me with new projects. So it's a combination.
So what's about your production company?
I just started it. It doesn't even have a name yet. It's all at the contract phase now.
Tags:
dimitri tikovoi
,
girls aloud
,
maya von doll
,
nicola robets
,
placebo
,
pop
,
producer
,
sophie ellis-bextor
,
sugababes