I always knew I'd like Berlin. Now would I fall in love with it was a tougher question. With people describing it as 'New York of Europe', I was more than intrigued. Finally this July I went there for 10 days and I surely did like it a lot. Cold rainy weather was really getting on my nerves, but the last 3 days of my trip were sunny and gorgeous, so I did manage to see Berlin as it is: young, easy-going, very artsy and pretty cheap (the rent here is ridiculous!). To summarize my trip I made a small guide, where I highlighted the most interesting places. It's pretty touristy and superficial, but hey, it was my first time! Now I can't wait to go back and fall in love with this city completely.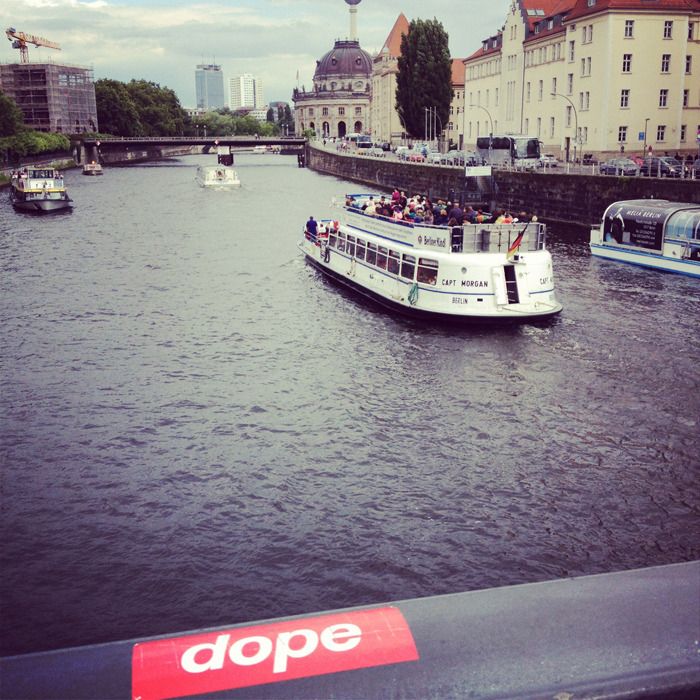 The food
Cheap food is perhaps Berlin's most famous tourist attraction. Whether it's a 2,50 Currywurst (a sausage with curry) or a 3,00 doner, it will most likely be fulfilling and delicious. But there are enough affordable places if you want to sit down.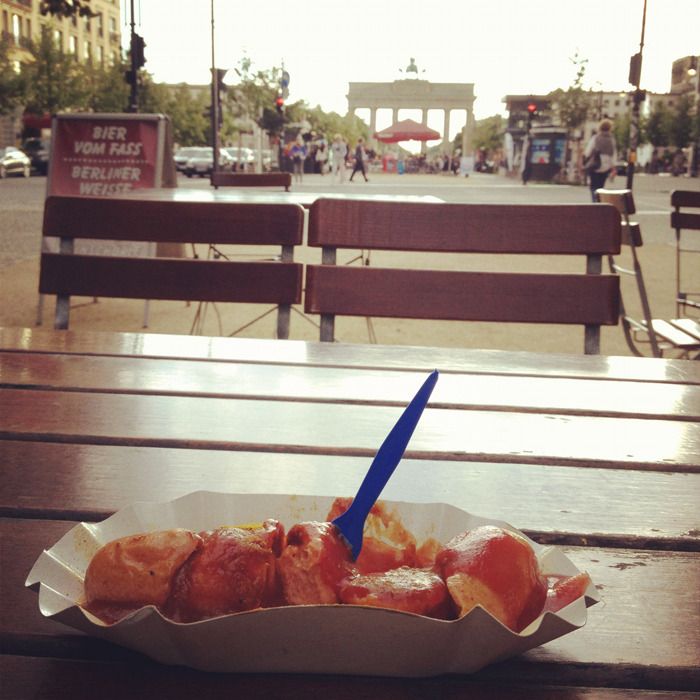 Right on the corner from the apartment I was staying at I found a very small cute Syrian restaurant 'Yarok' (Torstraße 193). For 7 euros you get a 'mixed plate' with various salads and meats. For 14 you get a plate for two. Plates come both in vegetarian and meat forms. Getting a morning coffee here will be tricky: 2 out of 3 times I've been there they ran out of coffee. But if you're lucky, try 'Chocolate on the spoon' (pictured below) – which is literally a huge chunk of chocolate on the spoon in the cup with hot milk. Delicious. Also local fresh squeezed juices can cure even the hardest hangover. Trust me.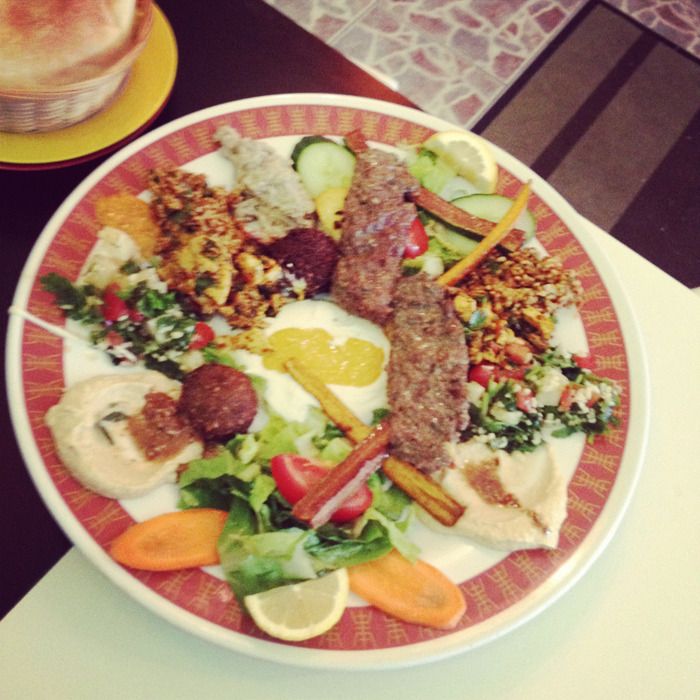 Mixed plate for two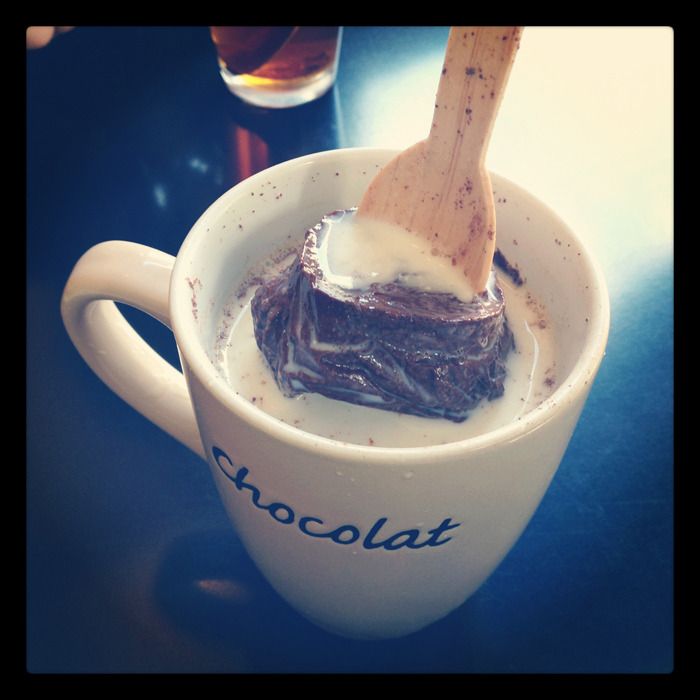 Chocolate on the spoon
I don't think I've ever seen so much art in one week, so if you're into discovering some cool artsy spots, too, then '3 Schwestern' ('3 Sisters', Mariannenplatz 2) is your place. Hidden in the courtyard of 'Kunstraum Kreuzberg/Bethanien' gallery, it's a sunny laidback restaurant. I went for a bulls hearts tomatoes salad and didn't lose – salads in Berlin are usually both healthy and huge.
Art
The most fascinating thing about Berlin isn't even art itself, but the spaces where it's presented. Those are some spaces! I don't think I'll ever be okay with seeing modern art in clean fancy galleries anymore after those trashy/beautiful buildings.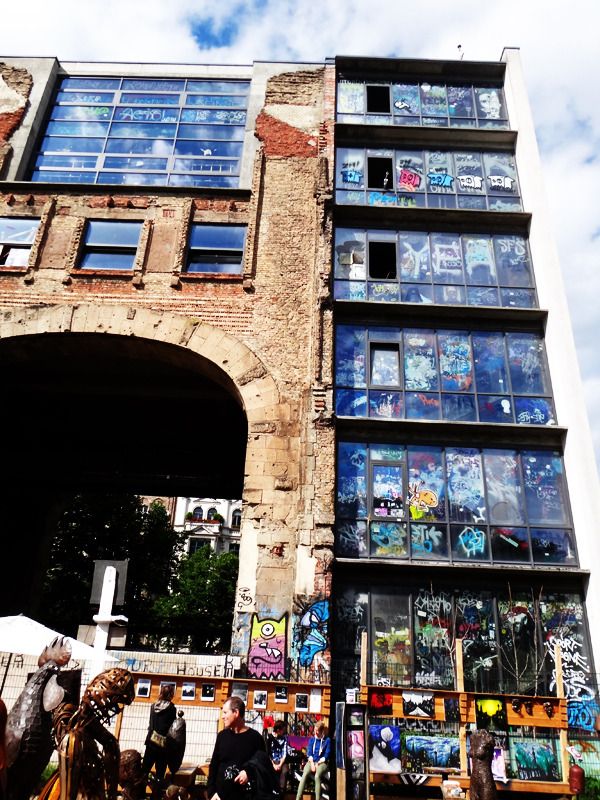 Tacheles
Obviously the first one to check is Tacheles (Oranienburger Straße 54). The building (which at some point used to be a SS central office) was turned into an art center in 1990 and ever since worked as a colorful representation of the different forms of the modern art. There are countless artists' studios, exhibitions, shops and tourists. One of the busiest spots is Dutch artist Tim Roeloffs's store, where you can buy his witty collages in every possible shape and form. The building will most likely be shut down very soon (the electricity was turned off in mid-July), although the artists are trying to save it by asking visitors to sign petitions and makes some donations. So hurry up!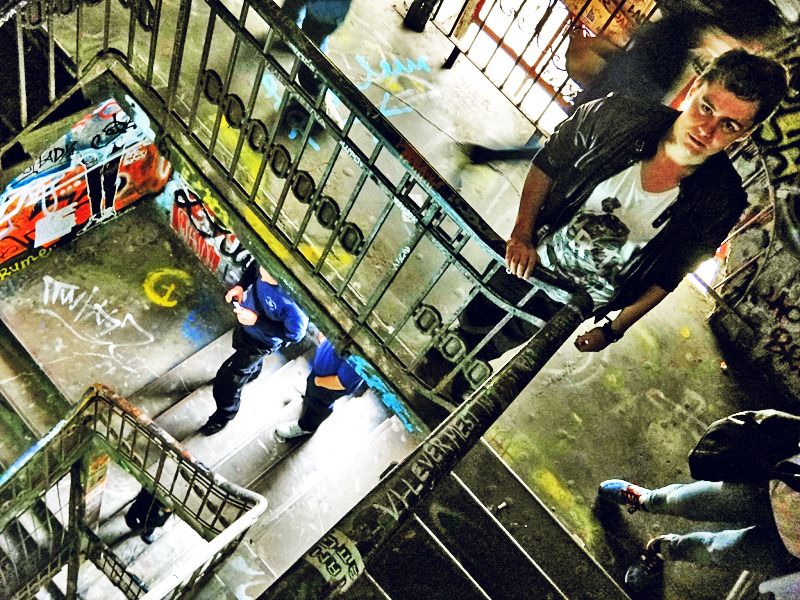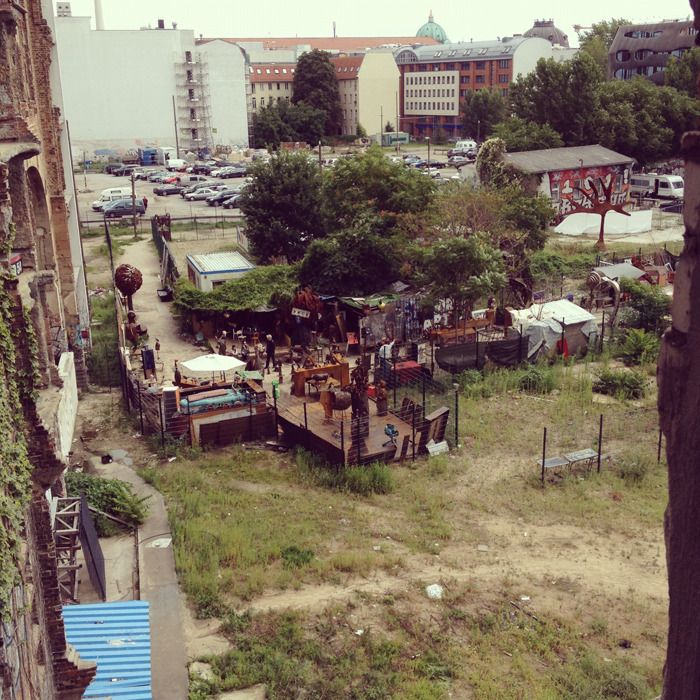 Tacheles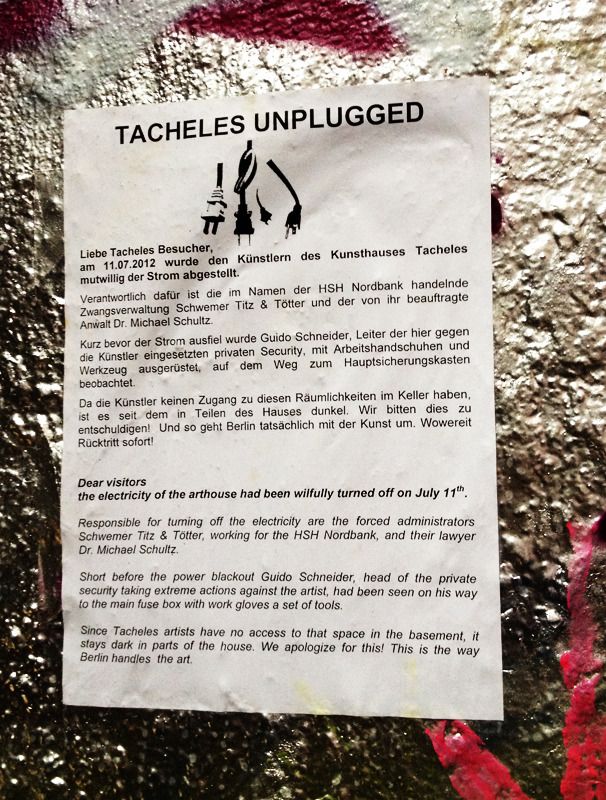 Report about shutting down the electricity at Tacheles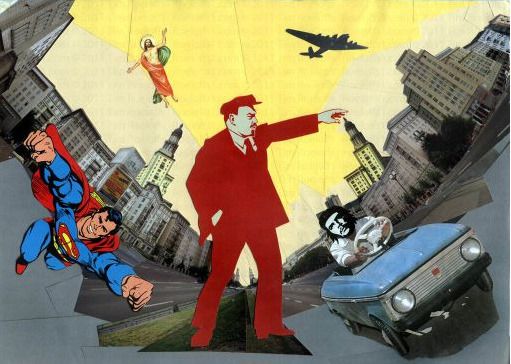 Tim Roeloffs's collage
The other great spot is C/O Berlin (10 euro entrance), which (as C/O twitter told me) used to be a post office with a space for training for future post officers. Right now there's a large Larry Clark exhibition: for the first time over 150 of his works (including photos, videos and collages) are presented in Berlin. On the second floor Poland photographer Rafal Milach shares the photos and videos of seven Russian people who live in the suburbs of Moscow, Yekaterinburg and Krasnoyarsk. Russia's a perfect theme for any photographer, so there's absolutely no surprise that the exhibition '7 Rooms' manages to be both hilarious and melancholic at the same time.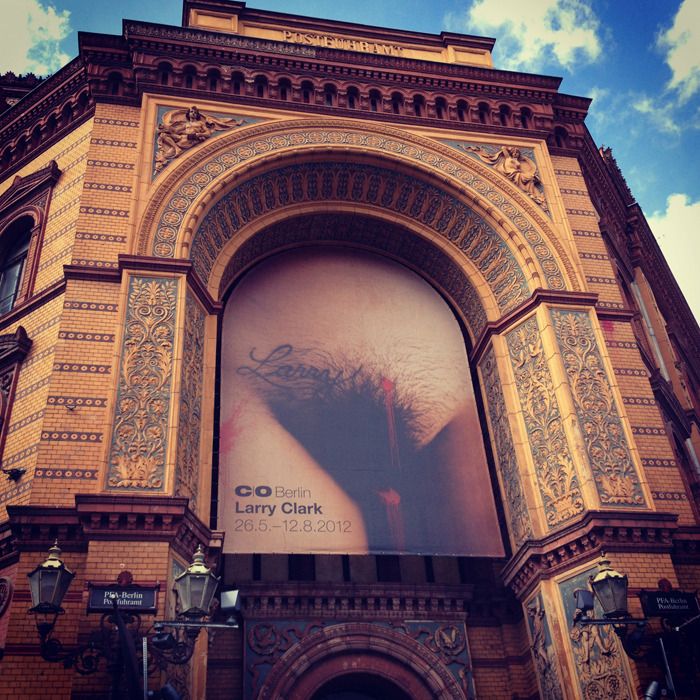 C/O Berlin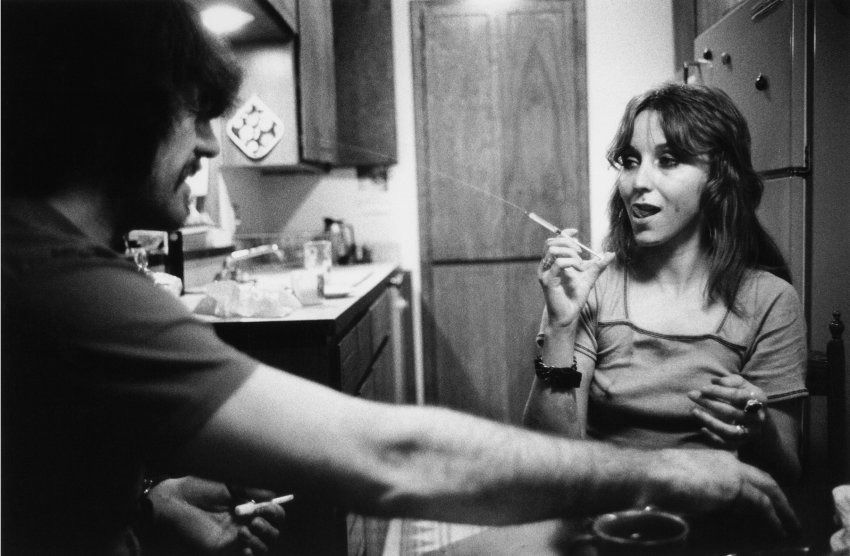 My favorite shot from Larry Clark's exhibition
Once in Berlin you won't be able to escape the ads for Diane Arbus exhibition at Martin-Gropius-Bau (Niederkirchnerstrasse 7). So don't resist it and just go see it: it's huge, it's great, it's fascinating. And it's worth paying 10 euros: there are tons of pictures, diaries and in the last room you can read several books by/about her. If you're in the mood for some modern (and free) art, then take a look at the exhibition at 'Kaufhaus am Oranienplatz' (Oranienplatz 17, 10999 Berlin). There are all kinds of art from young artists there. My favorite one was a huge glitter-covered canvas by Nicolas Fontaine.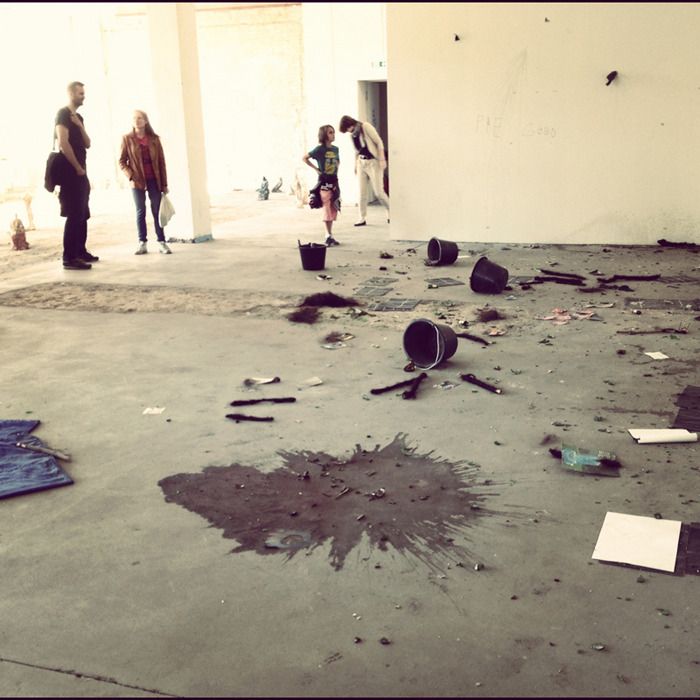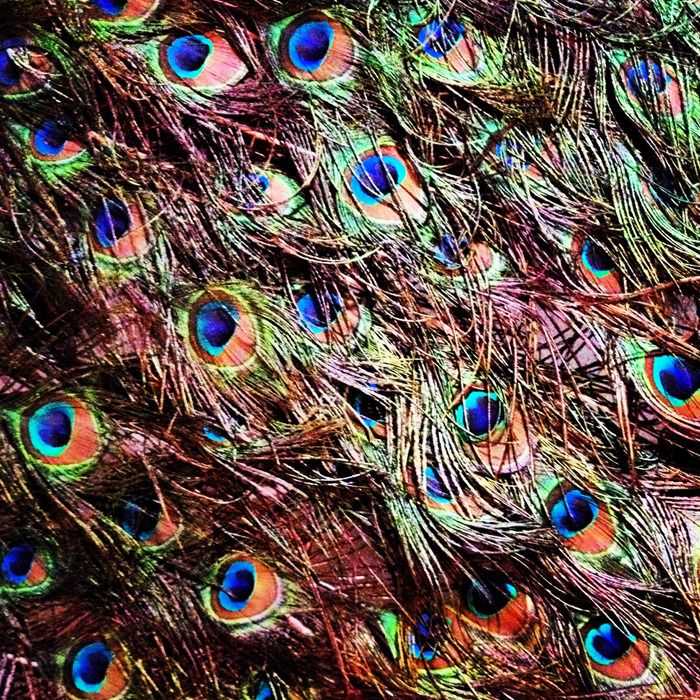 'Kaufhaus am Oranienplatz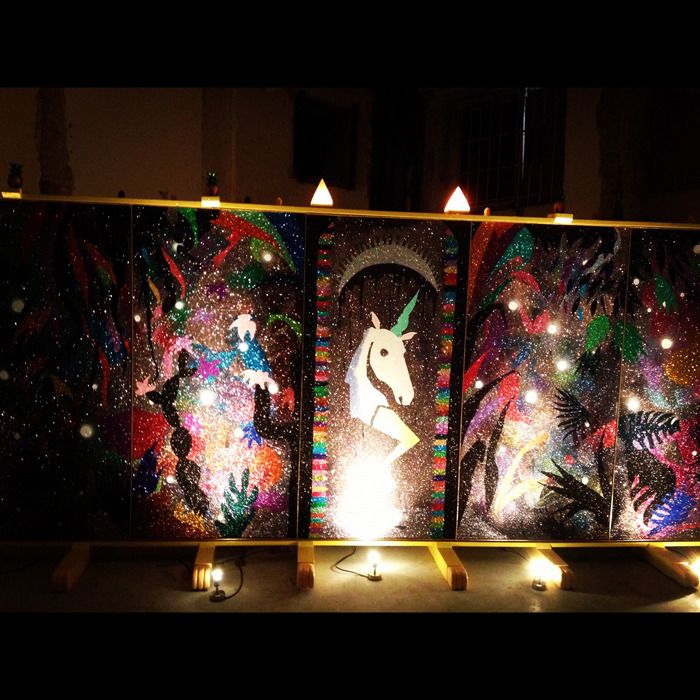 Nicolas Fontaine's piece
Nightlife
Whoever you're going to ask about Berlin nightlife will tell you one thing: Berghain (Rüdersdorfer Str. 70). Powerhouse-turned-techno-Mecca is the biggest tourist attraction in the city, but it's also the trickiest one. Firstly, there are different addresses in the Internet, so be ready to circle around the area looking for the club. Secondly, there's a huge line – prepare to wait at least an hour if you show up any time after midnight. Thirdly, the door policy is random and hard to figure out on the first visit (I was turned down the first time). My friend Maya von Doll told me to look as miserable as possible, which I kinda did the next time (hands in the pockets, no smiling – a tough task for me, no kidding!) and finally got in. The space itself is urbanchic at its best: lots of corridors (including the sex ones), minimum lights and the sound system to die for – you can feel the beats piercing right into you and bouncing from wall to wall. The music is a mix of techno, electro and whatever's cool these days in the dance scene. And note that you won't be able to take any pictures. But will probably need to take some pills. Also be prepared to turn into a celebrity on your way out – there will be tons of people in the line who will want to ask you on how the club is and how long is the wait.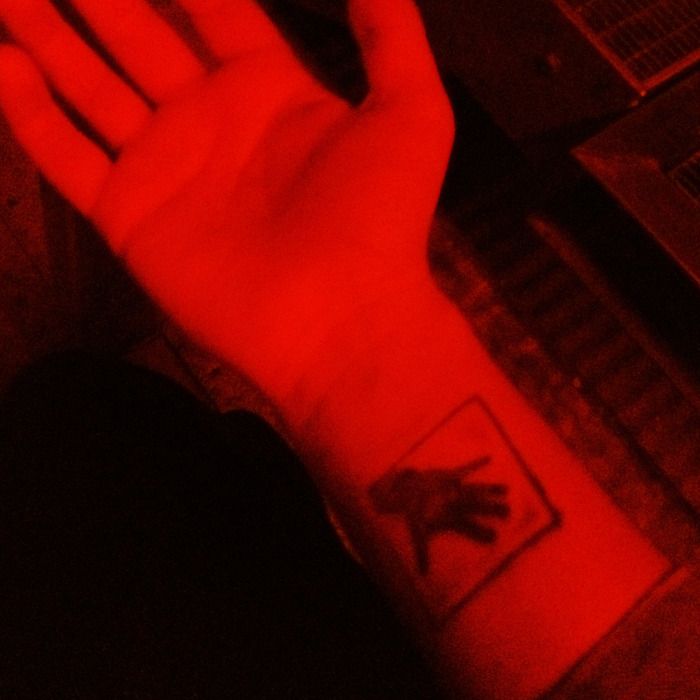 Berghain's stamp
If you're up for much glossier fun, then The Weekend Club (Alexanderstr. 7) is your place. Located on the top of the 15-floor-building, it has two dancefloors and a rooftop bar which gives you a spectacular view of Berlin. The more low-key option would be a 'Mein Haus am See' (, Brunnenstr. 197/198, http://www.mein-haus-am-see.blogspot.com/). 'It's not a bar, it's not a club, it's something sexier in between' says its website and it's a pretty accurate description. The crowd is young, the drinks are cheap (5 euros for my vodka/cranberry) and the whole place has a nice living-room-at-the-dorm feel to it. The place is easy to find: there's always big group of European youngsters hanging outside.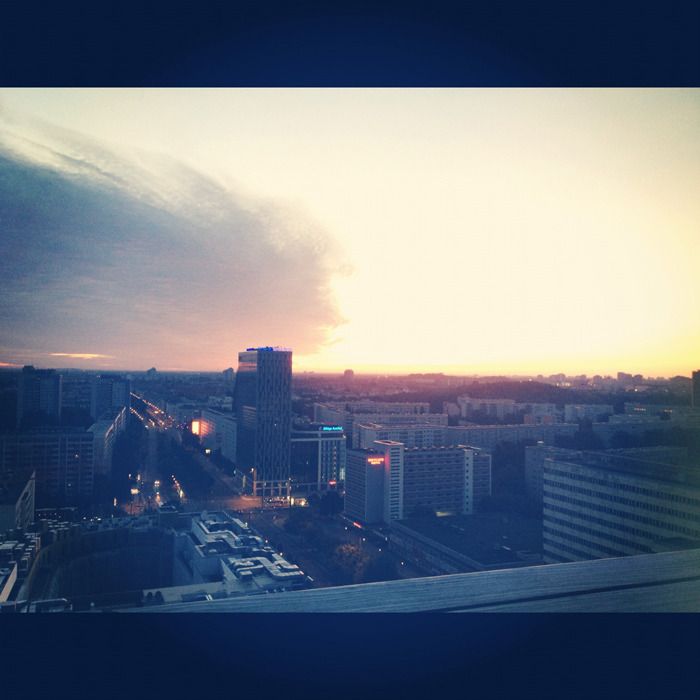 The view from The Weekend's rooftop at 4 am
Another good spot to have a couple of drinks with the friends would be a kitschy gay bar 'Rosies', which has a pretty mixed crowd. Don't repeat my mistake and go there alone and sober – this is a place to finish a drunken night out, not to begin one! So if you feel like dancing on a Sunday night, then head over to 'Ficken 3000' (which means 'Fucking 3000' – talk about classy and futuristic!) at Urbanstraße 70. Usually it's a sex club, but it turns into a funny (though crazy hot) dance party called 'Pork' on Sundays with the pop tunes blasting from the speakers, a strip pole (always a good addition) and John Waters movies on the screens. Plus you don't even have to drink inside – there's a 24/7 store nearby where you can get a 1 euro micro bottle of Jagermeister to let your inner demons out.
Shopping
Although I wasn't blown away by the local thrift stores (New York ones are hard to top), there are still some nice places to check out. First of all there's Humana Kaufhaus (Frankfurter Tor 3) – a huge secondhand department store, where you can find all types of cheap used junk: shirts, jeans, leather jackets, wedding dresses (I'm feeling sorry for whoever's going to buy their dream wedding dress in a second hand store), pop CD singles ('Baby One More Time' for 50 cents!) and towels (now I'd like to see someone buying THAT).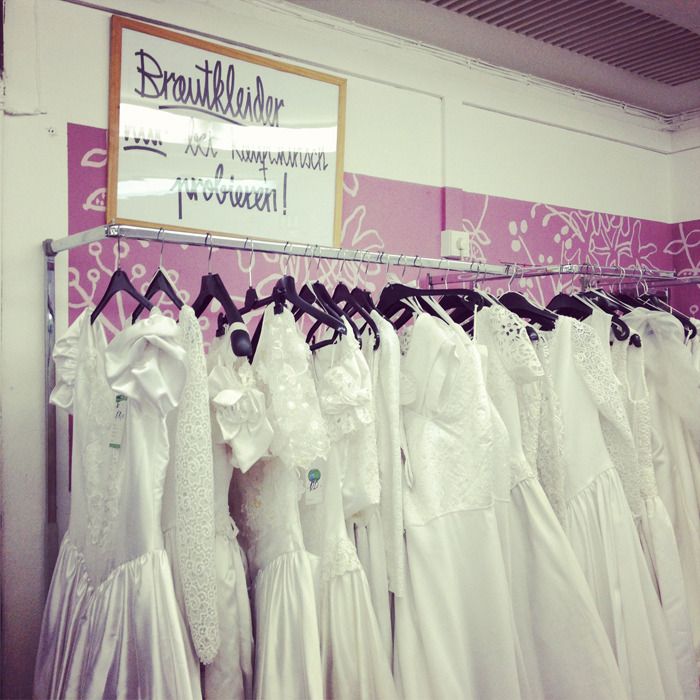 Second hand wedding dresses
For a little bit classier thrift shopping (is it even possible?) head over to 'Trashshick' (Wuhlischtrasse 31, trashschick.de) a small but pretty cool thrift store. There are mostly ladies clothes, but it does have some interesting stuff for the boys.
One of the biggest shopping attractions in Berlin is weekend flea markets. As most of the stores are closed on Sundays, flea markets provide an opportunity to shop for something really crazy. There are several flea markets around the city, so just keep your eyes open. Some of them are always there, like the one at Arena (Eichenstraße 4). Most of the goods have no prices on them, so be ready to bargain. And also prepare to have a series of deja vus, as most of the stuff here will bring lots of childhood memories. I found Sugababes 'Overload' CD single there – just in time for the news of the original line-up's reunion. Pop loves its karma.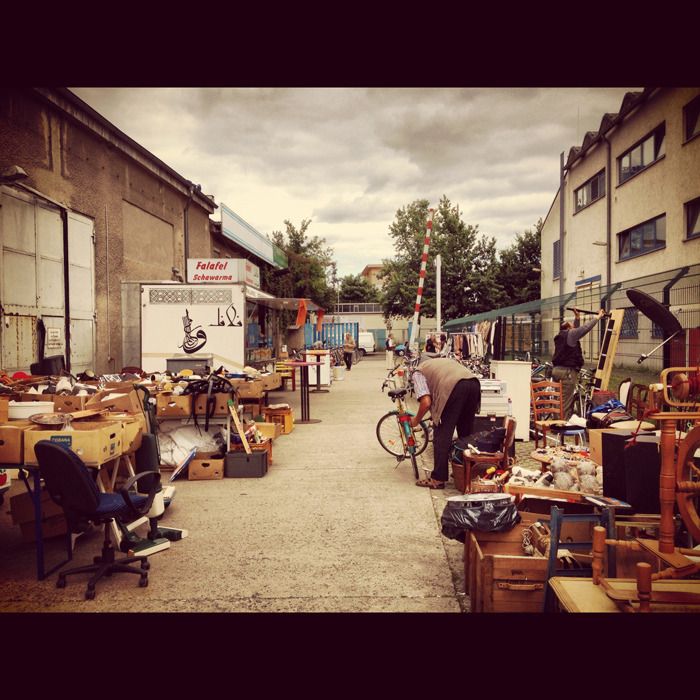 Flea market at Arena
CD/vinyl shops are still going strong in Berlin. The one I'd recommend to check is 'Comeback Records' (Hasenheide 9). Seeing me passionately going through the boxes with discounted CD singles, the owner let me see his enormous collection of the singles in the back room. So don't be fooled by the shop's small size – you can easily spend hours going through the records here. Not that it's anything but fun.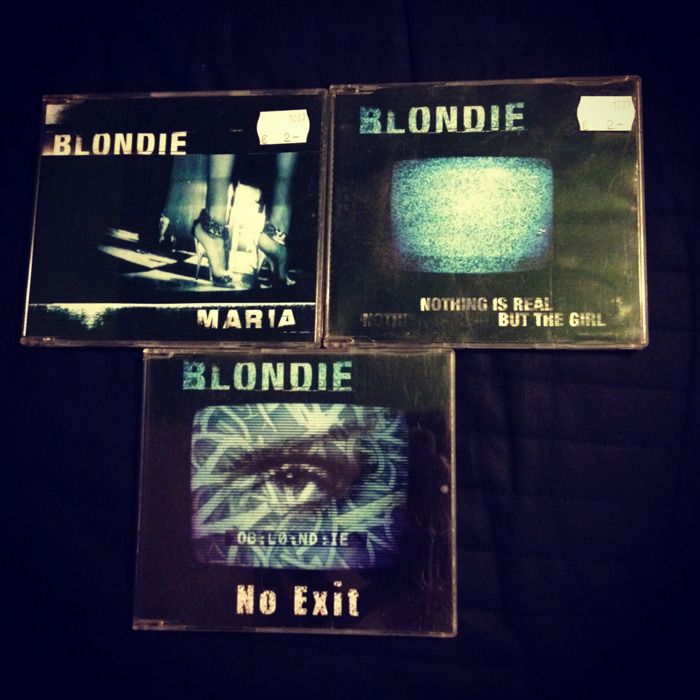 I've completed my collection of Blondie's singles from 'No Exit' album
Cinema
The good place to see a movie would be 'CentralKino (Rosenthaler Strasse 39), kino-central.de. It's about 5 euros per ticket and most of the movies are in English with Deutsch subtitles. The seats are rather uncomfortable, but the space around the cinema (you guessed it – it's all graffiti) is cool and have several nice cafes. Right now they have 'Drive' as their midnight special.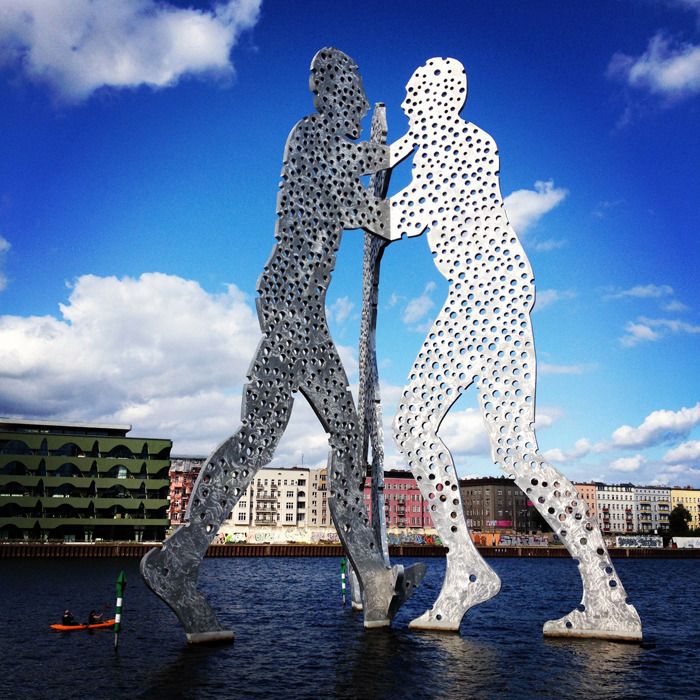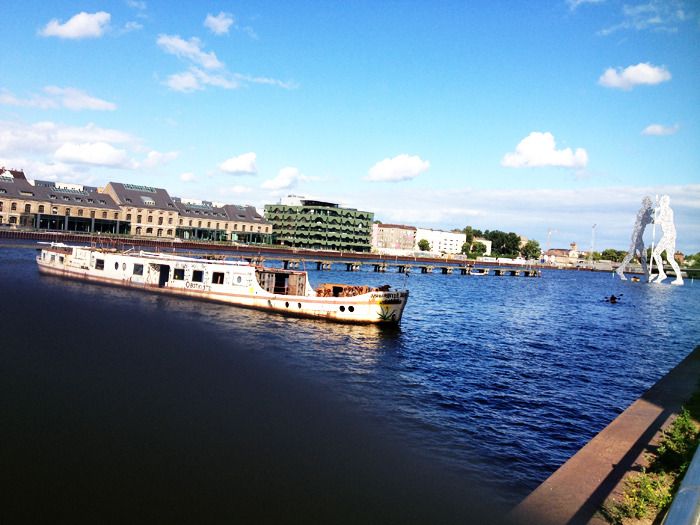 Tags:
Art
,
Berlin
,
Blondie
,
Clothes
,
Europe
,
Food
,
Nightclubs
,
sugababes
,
travel