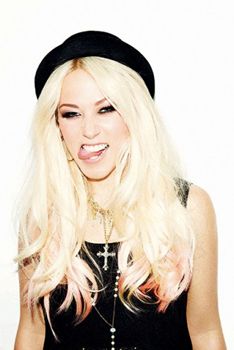 I was very pleased to know that Amelia Lily was coming to Moscow for the Valentine's Day – it's not that often that we get a rising popstar over here plus I liked both of her Xenomania-produced singles a lot. At the time of the interview it was not yet revealed that Amelia would serve as a supporting act to the upcoming Girls Aloud tour (which made total sense!). So eventually I saw Amelia three more times on the stage – and each time her voice was absolutely great and powerful – she rocked these arenas with such confidence and ease as if those were some low-key bars. Not to mention that she was an absolute pleasure to interview: very mature and honest popstar is always a winner in my book. Amelia's debut album 'Be a Fighter' comes out on April 29th and I'm very excited. And you should be, too.
She gave me a sweet shout-out, too.
Our interview in Russian on Rolling Stone website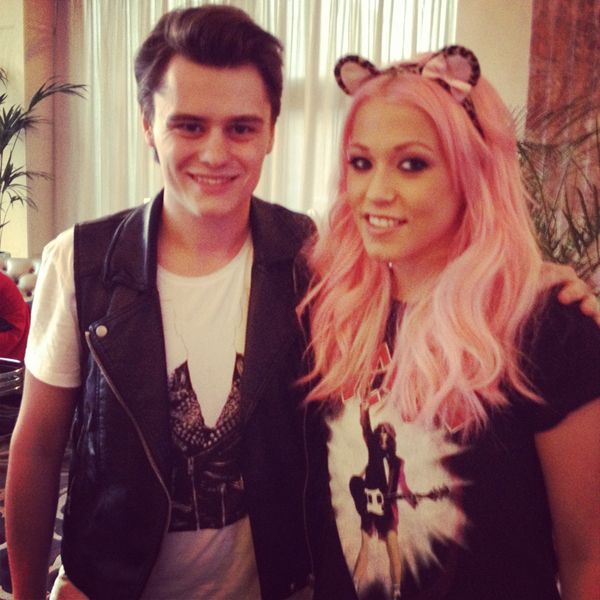 Whole interview in English is below.
How do you feel about spending Valentine's Day here in Moscow and is it the reason you dyed your hair pink?
Well my hair was actually pink on The X Factor and then I went back to my original blonde when I left the show. But I kinda missed it, it was my little statement and people seemed to like it. I suppose it goes quite well with the Valentine's day, isn't it? But right now my manager's my Valentine.
So what does bring you joy?
My dogs! I'm a massive dog lover, I got two little dogs and I'm absolutely obsessed with them. My dogs come first. And any man in my life has to know and deal with it. The dogs are at my parents' place right now, so I'm gonna see them in a week!
Do you still live with your parents?
No, I live with my brother in London and my parents live near Newcastle. I'm trying to visit home as much as I can, but obviously it's hard with such hectic lifestyle. But it's nice to visit home to remind myself where I came from.
Did you have this big 'Wow, now I'm a popstar' moment yet?
No, it's never really hit me and I don't think it ever will. I'm very grateful and feel very blessed. Most girls my age should be in college and I got on the biggest television show. It completely gave me that platform. But when I re-watch The X Factor, I have to pinch myself: 'Was it really me?'
Is it nerve-racking to re-watch your live performances?
Yes, it is and to be honest it's more nerve-racking watching it on the telly than it was in the studio. Because when you're in the studio you forget that the whole nation is watching you. My favorite moment on the show was when I got to the final. Behind-the-scenes there was this great tradition – we used to all jam together and create melodies and songs. I miss that 'cause it was very nice to just jam with other musicians. It was a little boot camp of our own.
Xenomania, who produce your album, has kind of a camp, too…
The whole album is pretty much Xenomania, yes. What I like about their technic of work is that it's so different from other producers'. You go there and it really is a house. You feel so at home. I could just go there in my pajamas and slippers and no one's bothered. And I get on so well with them, they're like my second family now. And it's very good for the work 'cause you feel so relaxed and focused. And that's exactly how I felt for the 1,5 year that I've been working with them.
Is there any Xenomania song that's not yours but you would like to cover?
Cher's 'Believe'! Brian Higgins is a genius for creating that song. I'm a big Cher fan, so why not?
You should do that! So how did you The X Factor story go? For the ones who didn't see the show…
So I got all the way to live shows. And then on the first live show each judge had to kick one of his contestants out. My mentor was Kelly Rowland. So I was told to leave. Then one of the boys had to leave in the middle, so there was an opportunity for one of the people from the first live show to come back. So me and three other contestants were put through the public vote. And I got the most votes and I made it to the final.
Where you happy to come back?
We were all called into a room and were told it's the only fair way to return to the show. I remember thinking: 'If I won't make it this time, it's gonna be ever harder'. When my name was announced I was absolutely blown away. I was so happy and grateful.
Do you feel like you're missing out on other 18-year-old girls' lifestyle?
It's funny 'cause I've always hang around with older people. And I always felt like I was a little older than my years anyway. When I went into X Factor I was 16 but I started partying when I was 14. And even now I still get to go out and party 'cause I'm 18 now and I'm legal to drink. I love to go to a club as long as I'm with a big group of people and there's security and I love to party. It's fun and I don't feel like my life's any different, I just feel like I've got one of the best jobs in the world and I'm enjoying and embracing every moment of it.
There's something in your music and even in the way you talk that gives me an impression that you're kind of an old soul. Is that how you feel about yourself? You don't look like a Disney star, no offense to them.
[Laughs and repeats the Disney part to her manager with a pleased smile] You know, since I've been a little girl I always had good family who kept me grounded and made sure I went the right path in life. I was quite a good girl, I never really bad behaved. And I feel that growing up with good people around me really kept me level-headed. I always say that the crowd you surround yourself with is gonna affect you in the long run. And I'm really grateful that I was given such lovely friends and family. People tell me that I talk like a 25-year-old woman and I'm like 'Maybe I do, but you've got to be mature in this business'. And that is a fact.
Do you keep in touch with other The X Factor contestants like Little Mix?
Yeah, I see the girls a lot actually. It's funny 'cause whenever we see each other it's like 'Isn't it weird?!'. 'Cause we kinda grew up together on that show and developed into young ladies. We're proud of each other and it's nice to see everyone's doing so well in different ways.
There are a lot of UK artists who's 'breaking America' at the moment. Do you plan to join them?
Fingers crossed. America's definitely on the list for me. But I also enjoy coming to places like Russia. I want to conquer the world, I want everyone to have a little piece of Amelia Lily. I want to bring smiles to people's faces. For some reason every time I go to LA I feel really at home there, which is weird. I like the space.
And the palm trees!
Yeah, the palm trees! I love it out there. I'm just gonna take each day as it comes.
Can you say that your singles so far are representative of what the album is gonna sound like?
You know what, not necessarily. I think the album is so diverse that people will go 'She's done everything on it!'. That's the last think I wanted to do is to be a predictable artist. I also grew up throughout the album and you can kinda hear it. You'll hear the mature side of Amelia and the fun 18-year-old teenage Amelia as well.
You once said you were bullied in high school. How come?
I think bullied is a very strong word. I wouldn't necessarily say I was bullied. They just never accepted or understood me. I was very into corky bands like Tokyo Hotel and Paramore (and I still am) and would wear very bright-colored skinny jeans and Converse and they would wear all these designer labels so they just didn't get me. It was tough for me, I'm not gonna lie. But I never changed. And I still question myself to this day: 'Why didn't it enter my head to change and be more like them?'. But I know why I didn't: if I did, I wouldn't be here now. I guess everything happens for a reason. There's a song on the album about those people who never understood me.
Your look now doesn't come off as fake – you have this quite natural vibe going on. And we've had a period in pop music when everyone was trying to go all over the place.
I think everyone should have this balance. When I'm not at work I love being Amelia, when I work – I love being Amelia Lily. I love dressing up for the stage and go all out, rocking and everything. But during the day it's nice to feel like a normal person. You don't have to be glamorous all the time. Otherwise they'll be waiting for you to show up with no make-up on to start judging you. I think it's very important to break the ice with people. To let them know I'm a normal person.
What does pop mean to you? Do you consider yourself a popstar?
I don't think I'll ever consider myself a popstar. Although a lot of people do see me as a popstar. I just think pop is such an amazing sound of music. As soon as pop ever came to the industry, it took the charts off to another level. I'm so grateful to have this opportunity to release my own pop music in those charts. It's weird watching your song climbing on iTunes.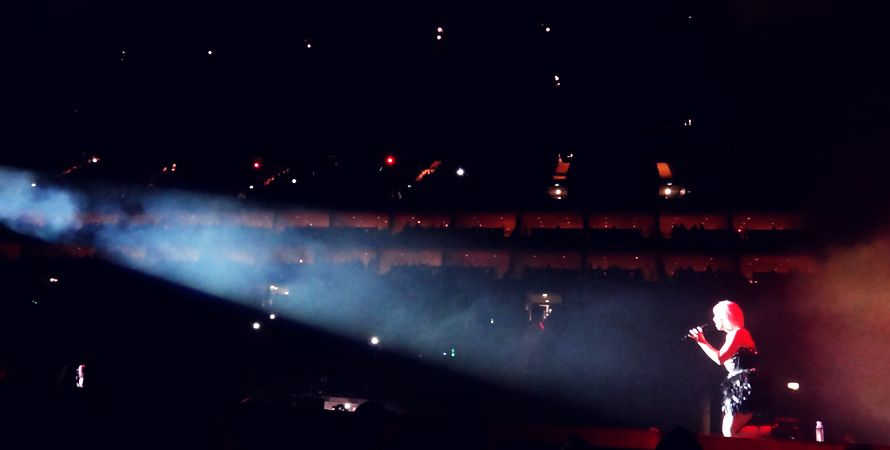 Amelia's big popstar moment at Girls Aloud gig in London on March, 3d
The Guardian described 'Shut Up and Give Me Whatever You Got' as a 'Post-EDM Holding Out For a Hero'. Do you like that?
Oh really? It's brilliant! I love 'Holding Out for a Hero'! I love all the legends, like Cher, Tina Turner, Celine Dion, Bonnie Tyler.
And you have a little bit of 'British Kelly Clarkson' in you…
Yeah, a lot of people say that. It's so nice to get those comparisons. Her voice is incredible. To get compared to her is just wow.
Do you have a boyfriend now?
I'm flying solo.
'Cause I wanted to ask you if your boyfriends ever take your songs personally?
I don't have any boyfriend and I haven't written any songs too meaningful about past boyfriends, so no one can get mad at me to be honest [laughs].
Did you really want to be a nun when you were younger?
Yes, I did. I was obsessed with 'Sister Act' when I was little. And I really believed that I could be the next Whoopi Goldberg in the nun society. However I didn't realize that's what nuns don't do. And everyone kinda let me believe that I could be the next Woopie up until I was about 9 years old. And then everyone was like 'Look, it's not like that'. And I was heartbroken. I thought that was gonna be my future.
What are your top 5 songs?
I love the new Fall Out Boy song. I love Pink, especially 'Try'. I like Paramore's new song 'Now' – I think they came back with such a bang. It's so big and you can sense that they're album is gonna be big. Let me check my iPhone for more… I like Avicii 'I could be the one'!
So no pure pop records? You mentioned you like Katy Perry…
I love Katy Perry! That's the thing: I can't name songs, 'cause I'm so obsessed with everyone. I love 'Wide Awake'. I'm a secret Justin Bieber fan. That's a little secret for me.
Tags:
amelia lily
,
interview
,
katy perry
,
little mix
,
pop
,
rolling stone
,
the x factor
,
xenomania