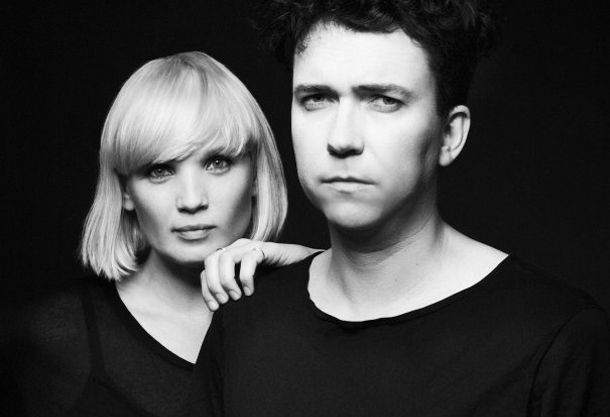 My recent (bourbon-filled) trip to Saint Petersburg coincided with the first Russian gig of the Danish indie rockers The Raveonettes, who I've discovered on the soundtrack for the 'Ringer' series back in 2012. I met up with a slightly tired Sharin and Sune a couple of hours before their show to discuss their sweet/noisy sound, latest album (which includes a very nice dreamy ode to New York called 'She Owns The Streets'), social media and balancing life at home with being an artist. Sharin was doing most of the talking.
Russian version of the interview's on the Rolling Stone Russia website and the original one – under 'More'.
It's the beginning of your tour today. Are you excited?
Yes, it is exciting. It's also our first performance in Russia. We did have one show before, but it was a strange event.
What do you mean by strange?
It was a private show in Moscow. And they pretty much told us to stop after two songs. Guess it was the wrong people listening to the wrong music.
One of you lives in New York and the other one – in LA. Does the distance enhance your creative process?
We both live in LA now since last November. While we were recording the album we lived in different cities. It was kind of an obstacle to live on different coasts I would say. But we've been living like that for 6 years. Sune writes the songs, then he sends me the files. It's nice to be in the same city now.
The impulse for the last album, Observer, was the idea to channel the Doors-era atmosphere, right? Did you succeed or the album turned out to be something else?
Sune: We do like the Doors, but we weren't trying to channel The Doors thing. The album does have a West Coast feel, but there are few New York songs on there as well.
You once stated that your American fanbase is older than your European fans. Why's that and who would you think listen to your record in Russia?
We think the fanbase is pretty much the same everywhere. We've no idea about Russian fans, as we've never been there. No idea what to expect. But Russian fans do write to us sometimes. Someone has contacted us about the page they set up for us at the Russian equivalent of Facebook…
vKontakte?
Yes. I was very curious about what albums Russians know better: the earlier or the later ones. And the promoted told us the better known one was 'In and Out of Control', so it's the later era of The Raveonettes that people know.
You also stated that your music is a combination of all decades and not just an homage to retro. How else would you describe your music and the sound you're aiming for?
The goal is always to write good songs with good lyrics and convey some stories and emotions. I think our albums are quite different, which sometimes can confuse people. 'In and Out of Control' is very different from 'Lust lust lust'. The foundation of The Raveonettes is a very distinct sound of the guitars, it's very surfy and noisy and poetic at the same time. Then there's the sweetness which mixes with the noise. It's a combination of the past, present and future with all the electronic sounds.
When you were starting out it was a different game for an indie act. I mean MySpace managed to rise and then die all while you were performing. Is it harder now?
It's more annoying [laughs], 'cause these days everything is built around social media. Sometimes it's fun to do, but sometimes it's very boring. You wonder why you have to do this instead of writing songs. It's hard for people like us who come from a different generation. We didn't grow up with all the social media and all this information. I can appreciate it but I'm also worried about what it's gonna do in terms of people's presence in real life. And also the air of mystery surrounding bands changed. Now everyone's participating in band's life.
With over 10 years of international success as indie band, did you ever dream about mainstream success?
We try all the time. We would love for everyone to know who The Raveonettes are in the whole world. It'd be nice to have lots of money and have all your shows sold out, but it's not just about the commercial success. It's nice when people know your music and appreciate it. But we don't compromise: we're not trying to change ourselves to have commercial success. I just don't think we're particularly a very commercial band. It is what it is.
When you're in a band for so long – do you completely merge with that role of a performer or you have kind of a double life?
My life in the band and on the road is different than my life at home: I have a family and a child. But at the same I'm the same person. I don't feel like I'm entering some kind of persona when I'm on stage. Which is probably sort of problem for our band: we don't live to be on stage. We don't feed off of being in the spotlight. We're actually kind of intimidated by the thought of going on stage. We just want to channel the music. And I think people are sometimes would love to see us being more entertaining, but we're not entertainers, we're just playing music. If people are looking for a spectacle or a riot, than they're not looking for us, but the music sounds incredible, so hopefully that's what people can enjoy.
So it's more about the studio magic for you?
It's not like I don't enjoy being on stage, it's just that I definitely prefer the studio experience. That's where the music's coming together. Live is different. That's where you see how the audience response to your music. It's fun to see the new places. I'm curious to see the Russians [laughs].
You're music is rather diverse and sounds good both in the intimate environment and on a big festival. Where do you prefer to play more?
I would say that I prefer the clubs more because I just like the fact that people came to see you [laughs]. And also because you have the closed space and you can work with lights to create an atmosphere. Or maybe a dark open space at night. I used to go to the festivals when I was a teenagers, but now it's too much for me. I prefer to go to concerts.
Tags:
indie
,
the raveonettes