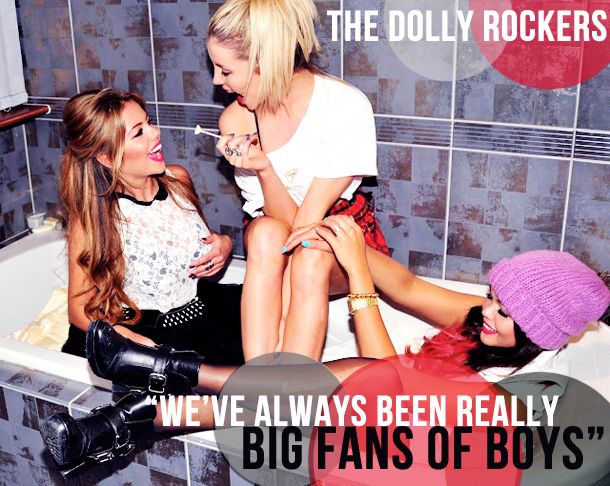 "What is that? Did some hooker give it to you?" – Daniele returns the red-stained note to the seller. It's Friday night around 9pm and I'm in London's Soho with the The Dolly Rockers – British pop trio with Lucie, Daniele and Sophie rocking their 'girly rockstars' image to the perfect ten (it's Lucie's Birthday tomorrow, so there's a celebration to be had after our interview). Right now we're in a tiny iphone-cases-store: Lucie's getting her 1st ever iphone cover as an early Birthday present and I get one with the British flag – 'Something to remember from London' as Daniele put it. Once we're done harassing the seller and Daniele's done lecturing him on his ridiculously high prices, we're off to find a quite spot to chat which (how surprising) turns out to be impossible in that area. At some point we stop at a random burlesque show as Sophie convinces us it's a 'fun drag show'. We stay at the bar for the whole show (which involves a very amusing-looking old fella and several middle-aged women in bikini dancing around him) and then re-locate to a sushi spot for a wine-filled conversation.
By then I knew by fact that I was right about following these girls' career for the last 4 years – ever since I saw their hilarious 'how-to-wire-a-plug' YouTube video (which is sadly offline these days – most likely due to the fact there was a line-up change with Daniele replacing Brooke). 4 years into the game and The Dolly Rockers are still one of the (if not simply The) funniest and most colorful girlbands out there. The trick here is rather obvious: there's nothing fake or manufactured about the trio, as they've basically three friends who just happen to also record music together (under control of pop guru RedOne). And now's the good time to get to know the girls as they promise to finally release new music this year: it's really been too long since their 2009's tongue-in-cheek classics 'Gold Digger' and 'How Did I End Up With You?'. And as the girls played me one of their new RedOne-produced songs, I can assure you: The Dolly Rockers have some pretty sick bangers up their sleeves. You can read our interview below: there's all you need to know about working with RedOne, killer hangovers, drinking games and the importance of looking like a proper popstar at all times. Getting dollyrocked felt way too good.
Also the Russian version of the interview is at Rolling Stone.
It's your Birthday tomorrow, Lucie. Do you feel wiser now?
Lucie: Yes, compared to how I was when we were starting back in 2009. We know much more about the industry now. I went to see Girls Aloud recently and they were amazing – these sexy woman and not younger girls. It's different for different age groups, but girls our age look up to people like Rihanna.
Sophie: When you start at 16, your management tells you what you're going to be, what you going to sing and wear. Now we're deciding everything for ourselves.
Was it what happened with you single in 2009?
Lucie: Not so much with the styling, but with music, yes. We had different ideas of what single should have been releases first, but we were told that 'Gold Digger' would be a better option. We didn't believe it and it didn't get playlisted, while our choice ('Je Suis Une Dolly') was played on Radio 1. But because it wasn't an official single, it couldn't chart. Why would you listen to some older business, when we're the audience anyway? So we decided to go with our instincts more.
So what does your instinct tell you to do now?
Sophie: I think we should just get naked and do a burlesque show now.
Daniele: Absolutely! That seems like the best way! 2013 is the year when we're gonna put out a song definitely. We just singed with the new management and it's really important to have a good management. It's people who worked with Jessie J, Ellie Goulding, Rita Ora. We have songs that we did with RedOne last year and we always knew that they were great, but we needed the right people to help us out. So finally we found them.
Sophie: There's only so far you can go without the management. You can be the best singer in the world, but you need people to help you.
Daniele: It's not just music with The Dolly Rockers: it's also fashion. The whole brand.
You do have that brand feeling, like Spice Girls used to. How did you develop that?
Lucie: We have the fans from back in 2009 and the new ones after Daniele joined. So we started a blog just to communicate to all of these people.
Sophie: I got a hat with 'Dolly' written on it and would wear it everywhere.
Daniele: We always say – every day you should dress like you're going to see your ex-boyfriend and his very hot new girlfriend. Even though we're not massive yet, we dress as if we think we are. People would look at me and go 'You're crazy, you're just going to a shop!'
Well that's the mentality that got Lady Gaga going in the first place: 'the fame comes from within, not when you're actually famous'.
Daniele: If you don't believe in the brand and the vision, then no one else is gonna buy into it.
Plus with you I feel like it's not even The Brand, as you are these girls.
Sophie: Yes. We are singers. We're also very business-minded. We always wanted to create a business that would last for a very long time. The problem with us – and it is an actual problem – is that we're too on it.
Daniele: We annoy our manager. He's like 'Chill!'.
Sophie: We want to know everything about every meeting.
Isn't it the way it should be? 'Cause at the end of the day it's your name written all over the album cover.
Lucie: It all depends on how you got there. If you were put together by a label, everything always comes from the label. Whereas we really had to grow to get where we are now. And now we won't allow anyone from the side to step in and tell us what to do. Labels sign you for what you are and then they start changing you and that doesn't make any sense. We're lucky that everyone who's working with us now, love us and tries to embrace us instead of changing anything.
How did you contact RedOne?
Daniele: Sophie was having a creative evening and she e-mailed a bunch of important industry people. One of them was Charlie Walk who used to head the Epic.
Sophie: I just sent him a Facebook message with a link to our MySpace. He replied straight away, saying call me. I was freaking out, so my mom had to tell me to call him. So I did, he told me he loved our image and asked if I knew RedOne. And he told us to come to New York next week and meet up with him. The girls were out in a club drinking when I called them. Next week we're in New York meeting up with RedOne. He told us he's not just gonna work with us because Charlie told him. He made was sing in board room one by one.
Daniele: It was so funny, as there were Red, Charlie and Charlie's 8-years-old son. Each one of us sang individually. Sophie did Alicia Key's 'Fallin', Lucie's done 'Fever' and Daniele sang Beyonce's 'Halo'. And Red goes to Charlie's son asking for his opinion. We were like 'You're leaving it in the hands of a child!'. And Red goes 'Girls, you're going to Hollywood!'. We cried, jumped – Red filmed everything. Sure he still has that footage somewhere. That was especially nerve-wracking 'cause it was right after Lady Gaga got big.
Sophie: It was a great experience. Plus Daniele always gets sweet with the producers!
Daniele: Well I'm the only single one in the band! But there was no penis touching in the RedOne crew, just so you know.
Are you still working with RedOne?
Lucie: Yeah. We started about two years ago and now we have more than an album worth of tracks. We have a session every three months.
Sophie: We're not in the rush. We've waited this long and want to really pick the right time for a single's release.
How did you end up recording Nicole Scherzinger's song 'Guns & Roses'?
Lucie: We were at the studio and RedOne offered us this song as Nicole didn't use it for her record. Initially the song was a bit rockier and that didn't suit us right. So they changed the music a bit and made it less rock.
Daniele: We would sing it as if we were shouting, so Red had to stop us 'Too far, girls, pop music, pop music!'.
Sophie: We love writing for ourselves, 'cause we have a lot of experiences together and on our own. And RedOne would help us take something for that and mix it with something from him.
What was the craziest studio experience?
Lucie: We were having this 'studio boom camp' – when we spent 14 days in a studio straight, finishing at 3am every day. By the end of it we just needed to go out and drink. We had one more of recording, but we still went out. It was too late by the time we left the studio, all the clubs were closed, so we just bought the alcohol in the shop and had a party in a hotel room.
Sophie: I left my car at the studio and the next day me and Daniele get to it and see a letter saying 'Your car has been broken into'. The whole window was smashed and my laptop was taken. So we had to wait for the police in the car at 5 in the morning, hangover and sleepy, for 3 hours. Daniele wishes she didn't come up to the car with me.
Daniele: In the morning, when I got to the studio, the first thing I said was 'my voice is dead and my hair's a mess'. And then that was the opening line for the song we did that day. Of cause you work with everyone in the studio so you kinda know them. But the only way to really get to know each other is by playing 'Truth or dare' and 'I have never'. Oh, God. That makes me cringe – thinking about the information that was revealed. It was us and like 10 men. So much drinking!
How do you pick the songs for your cover videos and why don't you just sing your own songs?
Daniele: We have quite a few. The most successful was 'Diamonds'. That one happened when I heard it the same day Rihanna put it up on her website.
Lucie: We pick the songs that we like but also the ones we know are gonna be very big internationally. But we also did Frank Ocean when he wasn't as big as he is now. So we don't just wanna sell our soul to the pop world.
Do you like pop music?
All three: Yes!
Sophie: We all have different taste in music. I like country pop.
Lucie: I like grimy hip-hop and r'n'b.
Daniele: I like r'n'b, too, and pop, like Katy Perry. When we recording our last cover – Taylor Swift's '22', Sophie was singing hit bit and it sounded so country, we were cracking up.
Is fun the vital part of the band?
Lucie: Sure! We're friends, so we're naturally have fun all the time. We go on holidays together, we go out together. We go to Thailand, Mexico, Vegas.
What about the boys?
Sophie: We've always been really big fans of boys. That's one of our passions. That's what keeps us going.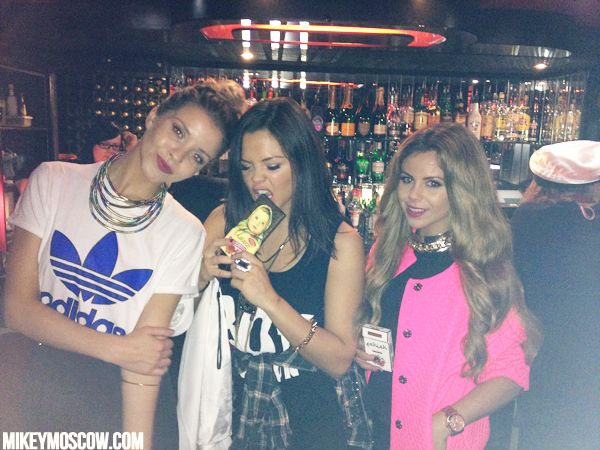 My souvenir for the Dollies – Russia's most famous chocolate 'Alenka'. Worked well with the cocktails.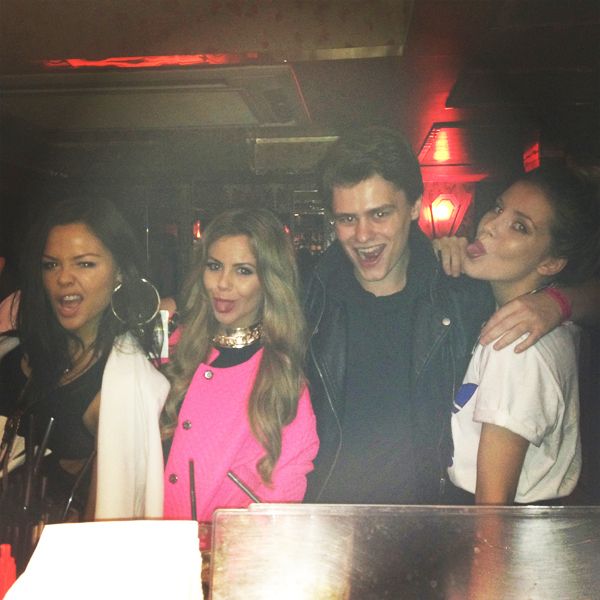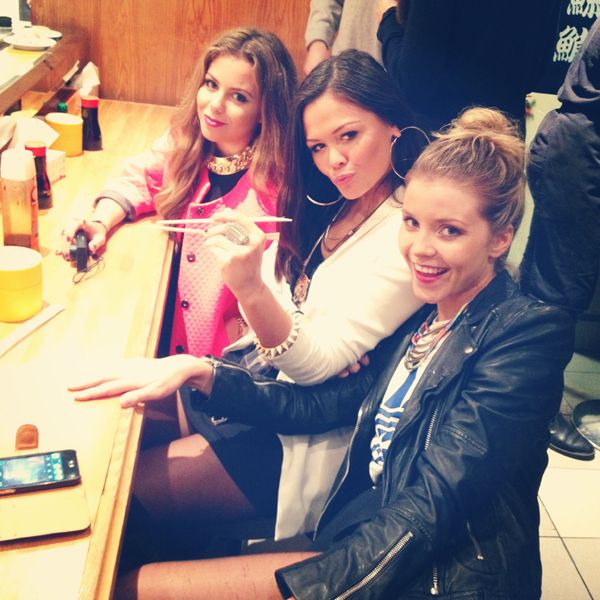 Sushi interview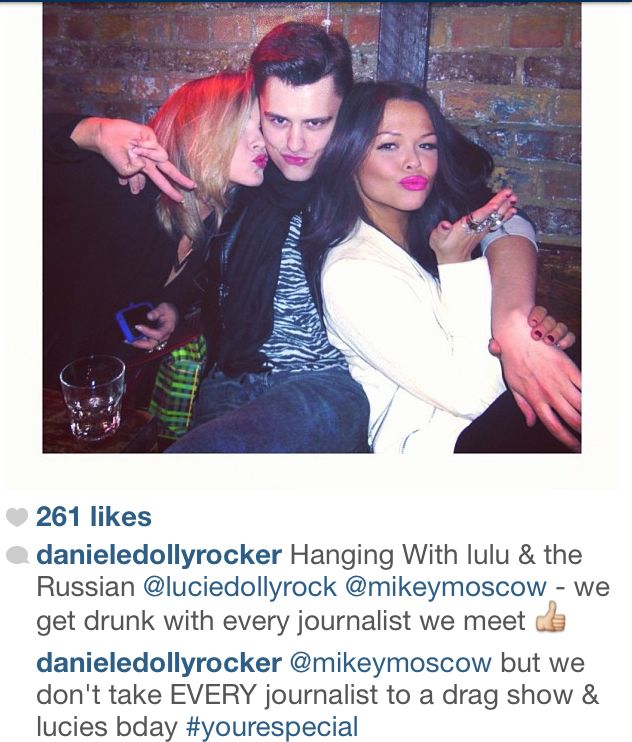 That was very sweet, too.
Find out more about The Dolly Rockers on their website.
Tags:
girlband
,
girls aloud
,
london
,
pop
,
redone
,
the dolly rockers