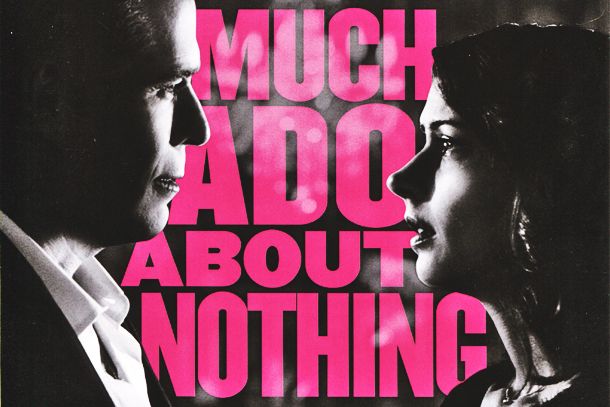 Limited releases are tricky to catch, but so far I've been lucky: last year I got to New York just in time to see 'Detention' and on my recent second trip to London I managed to see Joss Whedon's 'Much Ado About Nothing'. Being a big Buffy/Angel/Dollhouse fan, I knew that's one film I'll love right away. And I did. So much that I had to write a review.
What do you do when you just directed a movie that's destined to be the T-Rex of movie history with $1,5 billion gross? You sign up for a sequel. But if you're Joss Whedon, you also find time in your superhero-filled schedule to shoot a painfully independent black-and-white modern version of Willian Shakespeare's 'Much Ado About Nothing' using original text and his own house as location. And there's never really any doubt that any of these is going to work. It's Joss Whedon. He knows his stuff.
Whedon is no stranger when it comes to pushing the dialogs boundaries (see Buffy's silent episode 'Hush' or a neurotic/epic musical one 'Once more with feeling'), so making a good use of Shakespearean enunciation is hardly an impossible task for him. Most of the film's sarcastic punch comes from its quirky interpretation of the play's language as well as its leads natural likability. The true power of Whedon's shows was usually in its secondary characters, so it was a smart move to put the beloved 'supporters' in the spotlight this time while leaving the Big Ones out. And given her ability to switch from romantic to dramatic to fragile in a blink of an eye, Amy Acker never fails to create a pleasantly sassy and touchingly stubborn incarnation of Beatrice who's always just one step away from falling in love.
Her on-screen partner is a perfect match, too. Despite only dating on-screen for a handful of episodes, it was Aker's Fred and Alexis Denisof's Wesley clumsy relationships that became 'Angel' (and arguably Whedonverse's in general) most heartfelt romance thanks to actors' geeky charm and plot's tragic twists. And with 'Much Ado About Nothing' they effortlessly prove that true chemistry can easily survive a 10-years-old hiatus.
Whedon became famous by masterfully exploring the themes of love, death and love to/between the undeads, so it's only natural that at some point he'd turn directly to the most dramatic writer in history. After two decades of dealing with the slayers, vampires and superheroes, Whedon easily turn a seemingly-normal story into a fairytale with its dreamy cinematography and airy vibe. And he surely enjoys depicting countless layers of the ever-fascinating subject of romance. At the end of the day, the vampire can be slayed and the world can be saved, but is there really a proper resolution when it comes to love?
The biggest shocker here is Whedon's decision to abstain from any tragedy. The world Whedon has created here is so intimate and peaceful, that even a tiny hint of danger sends a massive shiver down our spines. And for good reason: it's hard to think of a single couple that would leave any of Joss' previous stories undamaged. This time around Whedon isn't trying to break any 'happily ever after' clichés, so it looks like we're witnessing (spoiler-but-not-really) the first ever happy ending in his work. It also serves as a genuinely touching send off to his past as he's getting ready to dedicate most of his time to the agents of Shield while prepping another mission for the big bucks-making team of invisible worldsavers. It took us almost a decade but we finally got to see Fred, Wesley and Topher all getting their happily-ever-after's, but it was worth the wait. If only Tara (Amber Benson) was there as well… But there's enough Shakespearean legacy to make this gone-but-never-forgotten witch happy, too, right?
Although it may seem lightheaded at first, Whedon's first (and hopefully not last) Shakespearean offering is stuffed with charming nuances and joyful comedic moments. You always know when the movie was fun to make, and this one was obviously all about having a good time in friends' company. It's nice to see that even with the big booms and big baddies away, Whedon can still craft a vivid world filled with instantly likable characters who are as caricature as relatable. This is surely one of the year's most delightful projects, which is worth hunting for around indie theatres. Not convinced yet? Did I mention you get to see Amy Acker's killer legs a lot?
Tags:
amy acker
,
angel
,
buffy
,
cinema
,
joss whedon
,
much ado about nothing