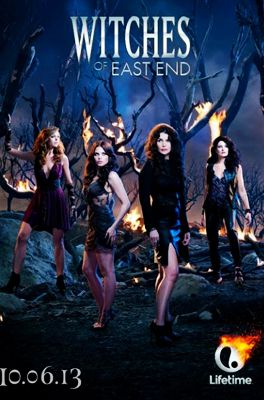 Even though I never watched any of the new (post-Buffy) supernatural series, 'Witches of East End' was an easy sell to me. First of all, it had the most epic 90s-inspired trashy teaser ever.
Secondly, I adored Jenna Dewan (I mean Dewan-Tatum) for a long time – ever since she played that sexy zombie chick 'Tamara'. The rest of the cast was involved with other favorites of mine: Madchen Amick was on 'Damages', Nicholas Gonzalez played basically the same role on 'Melrose Place', Virginia Madsen was stunning in both 'Candyman' and 'The Number 23', Tom Lenk came right from 'Buffy'/'Angel', Rachel Boston was a cute LA hippie in 'It's a Disaster' and Jason George brought some childhood memories about 'Sunset Beach'.
So here's what I thought about the pilot:
Overall it's better than I expected. It's well-paced, the dialogs are well-written and luckily there's more action than soap.
This is very 'Charmed' but with more of a season-long plot (instead of 'baddie of the week' angle).
The curse is a good idea. Hope we get tons of delicious flashbacks.
Jenna Dewan is still ridiculously hot and her leopard-printed white robe is a fashion must.
There's not enough Virginia Madsen, but I'm sure it will be improved soon (as the season's trailer during the end credits kinda gave her 'agenda' away).
The best line of the pilot came from Amick's aunt Wendy: 'I can't believe I got hit by a car. That's almost as dumb as the time I died from syphilis'.
The making out at the beach with a topless long-haired hunk is as cheesy as it gets.
The conversations between both sets of sisters are the best part of the show so far, while the special effects are pretty bad.
Consider me hooked.
Tags:
jenna dewan
,
pilot
,
series
,
tv
,
witches of east end
,
сериалы