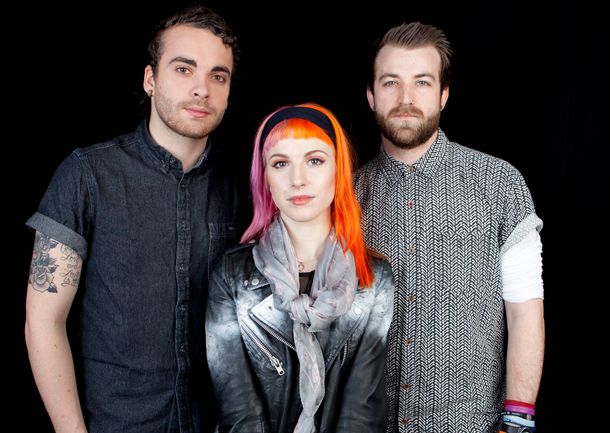 Paramore had a pretty good year. Their fourth self-titled became a huge success and made several 'best-of-2013' lists. They toured like crazy – and even came to Moscow for one of the biggest summer festivals. Back in May I chatted with band's bass guitarist Jeremy Davis for Rolling Stone Russia about his pizza-delivering past, recording a song for 'Twilight' and the best gig Paramore ever had.
How are you?
I'm good, I'm currently in Boston. We have a show here tonight.
It's a cool city. Have any of you ever been to Russia or the upcoming show is going to be your first one?
None of us has been to Russia. And we're so excited about it. We just started filling out all the paperwork we need for our visas. Russia's one of those places: I have no idea what it's gonna be like. It's really exciting.
It's been more than 3 years since the last album was released. What did you learn during that time? Was it a necessary break? 
Music is our lives, so to not be playing shows for that long it was really hard for us. But it was nice for us to be home and have normal life. We constantly tour and we're never home, so it was nice – to act like normal people: watch movies and TV shows when they come out. Normally we watch it all on DVD all the way through, and now we'd watch it like normal people and wait for the next week. That was kinda boring, but the rest was good.
When we got to start recording, we had a lot of plans and ideas. We were very happy that we were able to pull off a lot of things that we did, like having a gospel choir or a strings orchestra on the album. We really had enough time to experiment and try new things.
Did you feel relieved once the new album has proved to be a smash hit and all the experiments were well-received by the fans?
Yeah. We were just talking about that not long ago. When you make a record for so long and then you hand it over to everyone else in the world, it's very scary. You put a lot into making an album. This is the first time we finished the album and had it on our hands for several months. We were doing a lot of press and trying to re-establish ourselves. But now the record's out and it's out of our control. And that's an incredible feeling. You're so relieved not to be the only people who have it. It's a good feeling, man.
A main song for Twilight movie was a big thing for Paramore. Any other soundtrack you'd like to appear at?
It was a nice experience with Twilight. In fact they asked us to do some more songs for the other movies, but we decided we didn't want to be a Twilight house band [laughs]. We also had a song called 'Monster' in the latest 'Transformers' movie. We plan on doing more soundtracks, it's very cool to be part of the movie. Movies are on a bigger scale than making a record.
When Paramore were starting out MySpace was probably the only real tool to communicate with fans. Now there's Twitter, Instagram and who knows what else. Do you think it's important to use all of it these days?
Yes, when we started MySpace was the only way to show people your music and talk to them. These days there are so many ways to stay connected to our fans and it's very important to us. I don't feel like I'm very good with twitter, 'cause I don't always have amazing things to say. But when I do have something important to say, it's very cool knowing that I have a platform to say it. For business and fans twitter is great.
What's the story behind you leaving the band back in 2005 only to return in 5 months? And are you happy you did return, considering the band's doing so well now?
Haha, yeah. I left the band many many years ago and I was literally only gone for 2 or 3 months. And I hated it! I hated being at home. I was basically working as a pizza delivery boy. So I'm definitely grateful I decided to come back and they took me. I don't want to be delivering pizzas while the band's doing so well.
So you're not the one buying the pizza for the band these days?
Haha, I'll buy the pizza for the band, I just don't wanna be delivering pizza as a job every day. It was actually kind of a fun job, I was terrible at it. I was bad with money – I remember paying for a lot of people's pizzas. So I was a terrible pizza-delivery boy.
Paramore's rise to the top was a constant process throughout the band's career – with each record you got bigger and bigger. Did you always believe that the band is gonna 'make it'?
I think every band works very hard to be one of those big bands. And to be able to become a world-known band is very hard thing to do. You have to have those dreams and goals. You should always follow your dream. We didn't know that we're gonna become a big successful band. We've been in the band for 10 years and it feels like it's just flown by, but it's taken every bit of our work constantly and our fans and their devotion. Even when two people left the band the fans' support during the time was incredible. So if you want to have success, you have to give your life to it. You have to really give everything you have to all of it. It takes a lot of work, but it's fun.
What's been the best gig so far?
We were playing a show in Finland recently. The stage was set up on the beach. During one of the songs Hayley was talking to the fans and told them to run to the water when she counts to three. And then our whole audience run to the water and was chilling in the water for the rest of our show. Weird things like that make performing so special. I will always remember that.
And finally – anything you like in the current top 40 except for Paramore records, obviously?
There's always good music in Top 40. Macklemore is pretty cool.
Tags:
2013
,
indie
,
interview
,
paramore
,
pop
,
rock
,
rolling stone
,
интервью