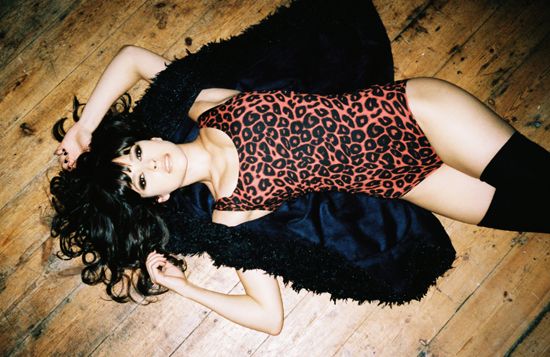 I'm not going to lie: I have a very soft spot for miss Maya von Doll. First of all, she's responsible for one of the best electro-rock-pop bangers of the 00s called, well, 'Stripper' (you really can't go wrong with such title). But even when she's not shouting 'Hey, stripper!', Maya stays magical, seductive and a bit tongue-in-cheek no matter what she's doing: rocking the stage as the boss of Sohodolls, dropping hot electro beats as a solo artist or coming up with clever little pop numbers for artists like Nicola Roberts (whose 'Cinderella's Eyes' is by far the best solo album of a Girls Aloud member). I've been holding my breath for new Sohodolls music for a long time and it did arrive in the most unexpected way: earlier this month Maya just dropped the new EP on iTunes. The record is called 'Mayday' and features 3 songs that form a perfectly logical follow up to 2007's 'Ribbed Music for the Numb Generation': it has the familiar amount of flirt, danger and silky vocals that made Sohodolls one of the most remarkable electro pop bands of the 00s. Now it's time to ask Maya a couple of questions about the release and what we should expect from her camp this year.
That's quite a surprise EP release. Did you plan it long ahead or was it a spontaneous decision to bring Sohodolls back?
It was spontaneous. I just realized that there was still so much love for the band online that people deserved to hear unreleased songs.
What happened to Sohodolls in between the debut album's release and 'Mayday'?
We left our label, rewrote a second album, almost moved to LA to record it with a big producer out there. But I got distracted writing for other artists like Nicola Roberts. It was something I had always wanted to do, it just came at the wrong time for Sohodolls.
You're working with a lot of other artists these days – give me some details!
Actually I'm not. I've been writing a lot for myself in a new grown-up way since January 2013 and only writing for two select other acts who will debut in summer. My ethos now is 'less is more'.
Will you continue the solo career and if not – what will happen with all the electro stuff you've recorded for yourself?
Yes, the solo career continues and I have a secret show in April in London. The electro stuff – a good song lasts forever so the good stuff has already found a new home!
What does 2014 hold for you?
The best year in a long time!
Photo: Jeff Hahn