Avril Lavigne may have cause a bit of a riot with her shockingly bad Japanese-inspired 'Hello Kity' video, but when it comes to doing justice to J-world, there's hardly another firecracker like British YouTuber Kelsey Ellison. For years she made YouTube a much more kawaii place and now she's ready to kick off a music career, too. Her debut single, Maya von Doll-penned 'Pom Pom', is a perfect introduction to what's yet to come: it's ridiculously catchy, fun and just the right amount of crazy. Obviously I had to find out what was going on behind-the-scenes on that video shoot and, as Kelsey put it herself, inside her 'cartoon like brain'.
What's the story of Kelsey?
I come from the land of the Jelly Shoes and the Spice Girls, A.K.A the nineties. I'm from the U.K and I grew up in a small town in South Yorkshire called Barnsley. My Dad has been in various bands and my Mum is a Musical Theatre lover, so I've been surrounded by music since a very young age. After I had an operation on my eye when I was three, I lost a lot of confidence, so my Mum took me to dancing classes, and I got a huge passion for it! When I got told in career advice at school that performing wasn't really a real job, I decided I wanted to be a performer for a living.
You have quite a presence in the social media (to say the least). Did you ever try to count how many hours a day you spend on keeping it all up to date?
I love social media so much, and unless I'm travelling, I'm pretty much on it at all hours because of my phone! So I reckon around 4-6 hours a day because I like to reply to people and keep in touch. It doesn't feel like a chore though at all!!
Where does your fascination with J-culture come from?
When I came home from Primary school, I was obsessed with a program they used to put on called Card Captor Sakura. I didn't know it was a Japanese Anime at the time, but something just drew me to it, and as I got older, anything in that style really interested me. Also, when I first saw Gwen Stefani's Harajuku girls, I fell in love with how colourful and different the style was, so I researched the style more and more, and then found out that a lot of things I liked was from Japan, and I started to fall in love with the culture.
Why did you choose 'Pom Pom' as your first single and who produced it?
Ben Berry was the producer, and Maya Von Doll wrote the original version of the song. We decided that 'Pom Pom' would really tie in with my crazy videos and style; especially the chorus, because it was very cheerleader like and girly like Gwen Stefani's 'Hollaback Girl'. We knew we could have tons of fun with it, which is what I want to do with my music!
For those of the listeners who do not 'get where this is coming from', what does 'pom pom' stand for exactly?
The song is about losing your mind and going a little crazy, and the lyrics describe what's going on through my cartoon like brain. Pom Poms kind of look like cute fuzzy brains if you think about it! So you could literally be shaking your head, or real life pom poms, because in 'my life' it's always handy to have pom poms. Everyone's mind is different, so it's open for interpretation!
The video looked like a lot of fun to make. What was your favorite bit?
It was so much fun to make! It was honestly one of the best days I've ever had. There are so many things that happen in the video, I love the part where I turn into a kawaii bugs bunny and the part where I invade the 'Playhouse' was lots of fun to film! But I think my favourite bit of the whole video is where the pink haired cartoon girl appears and gunge is thrown on the dancers!
There are several fellow YouTubers cameos in your video. How did these happen?
We thought it would be a good idea to tie in with my youtube activity by having real youtubers in my video and they are all my friends that I know on youtube, so I just asked them if they would like to be in it!
Were you inspired by any particular J-pop artist or just pop music in general?
I love pop music, and I love how fun it can be. Some western artists I was inspired by was Gwen Stefani of course, Britney Spears, and Yolandi Visser. I'm also a huge fan of the Jpop artist Kyary Pamyu Pamyu and was inspired by how happy and fun her songs and videos are.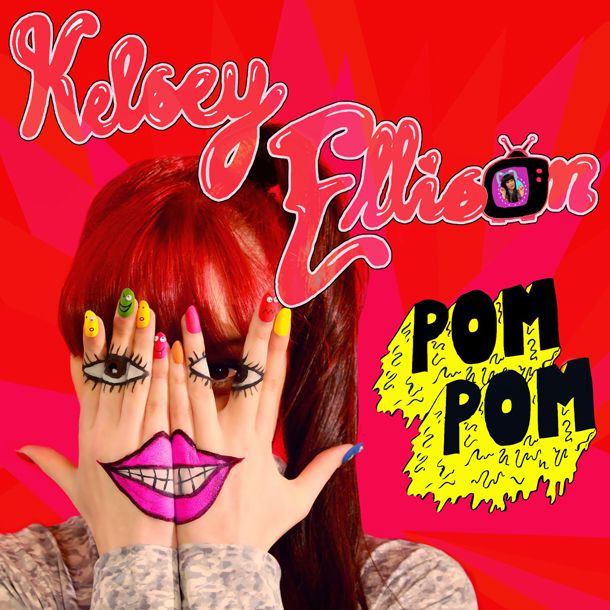 How long did it take to draw such perfect face-on-the-hands for the single's cover art?
We only had a few hours to shoot the whole video, and the hand part was the last shot of the whole video, so we had to rush it! But Natasha, the hair and make-up artist did an amazing job!
Should we expect an EP or an album any time soon?
We're still seeing what the reaction is like to Pom Pom, but we have worked on a lot of songs over the past year, so an EP may be in store for the future!
What are the top 5 things everyone must know about Japanese culture?
1. Take your shoes off at the door if you are entering someone's house.
2. Harajuku is a district in Tokyo where you can find all the craziest and latest fashions.
3. Kawaii is the literal translation of cute and is a word used a lot by girls my age. But there is an unknown art to kawaii, so beware!
4. On Christmas day, a lot of Japanese families eat at KFC.
5. Geisha means 'Person of the Arts' and the original Geishas were men.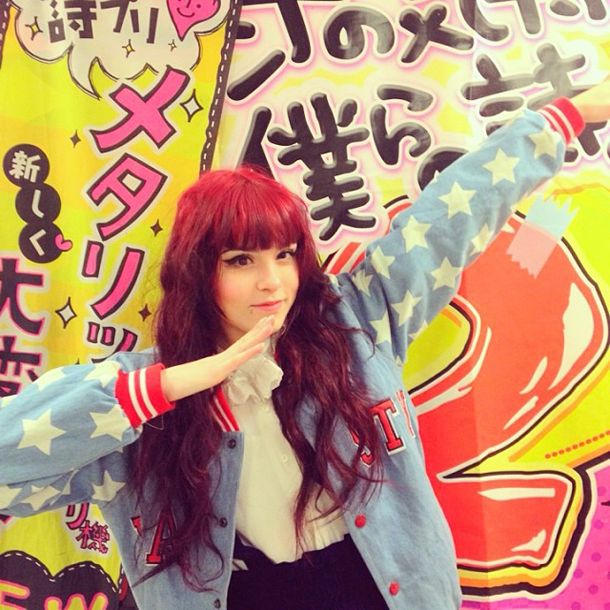 Tags:
interview
,
japan
,
japanese
,
kelsey ellison
,
maya von doll
,
youtube