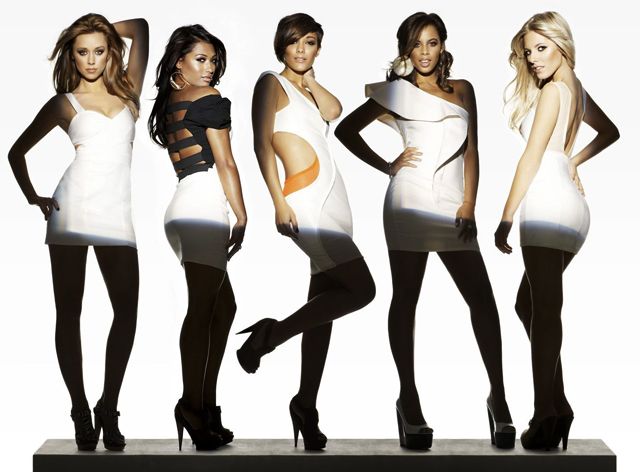 The Saturdays are quite an interesting band. They've been around for 6 years – eternity in a female pop world – yet they hardly ever crossed any boundaries: no scandals, no dramas, no big experiments – just a lot of marriages, polite smiles and lazy dancing. But even though they played it rather safe for most of their career, they still managed to release an impressive collection of enjoyable bangers. With their first (and let's hope not last) greatest hits compilation out, it's time to re-visit their poptastic catalogue and pick the 10 best tunes. Here's my ultimate The Saturdays collection.

Up
The Saturdays first single ('If This Is Love') was easy to miss, but they have properly arrived with this hell of a pop banger that served as their second single. Beware of the album version though: radio edit is what you want. That chorus!
Higher
Witty opening lines is one of The Sats' trademarks, and 'I'm doing nothing but then at least i'm doing nothing wrong' is among their finest ones. There really is nothing wrong with this anthemic tune: it's as euphoric as pop song can get.
Not That Kinda Girl
The Saturdays always delivered when it came to their b-sides: most of them are better than most of their album tracks with 'Not That Kinda Girl' being the best one by far. It's as close to the 'Perfect Pop' canon as 'Up' was.
Notorious
The band's big diva moment happened in 2011. It's really hard to believe that they are indeed the bad girls they claim to be (considering most of them are wives/moms these days), but regardless of their off-screen good behavior they managed to record a perfect pre-gaming anthem. Get these stilettos clicking, big bosses!
One Shot
The verses here may sound exactly like Britney's 'Stronger', but the chorus is a proper killer. With a nice message, too: no seconds chances, suckers.
What About Us
The band's USA debut was a by the numbers EDM track that could easily serve as any American pop star's b-side. Yet 'What About Us' turned out pretty bombastic. Not bombastic enough for American market though.
Ego
One of the band's biggest hits has a big ego of its own – and rightfully so! We also got perhaps the campiest video in the band's history. There's nothing like a girlband pretending to be superheroes (and doing it way better than Little Mix ever did).
All Fired Up
The Sats decision to go all EDM didn't exactly boost their profile, but at least they gave us this hypnotic Xenomania-produced banger. It's amazing enough to keep it on my rad-aaah for a long time.
Gentleman
Despite of what the pop fans like to say, 'All Fired Up' wasn't their most Girls Aloud-y moment. It was this tongue-twisting cry for a real man that has the weirdest name-checking in the current pop history: Channing Tatum and Kanye West are understandable, but Larry King, really?
Disco Love
Any song that name-checks '…Baby One More Time' is a winner in my eyes. Especially when it comes packed with such a catchy chorus. These ladies can disco like no others!
Other notable songs: Wordshaker, Puppet, Ladykiller, The Way You Watch Me, My Heart Takes Over, White Lies, 808
Tags:
music
,
pop
,
the saturdays
,
uk