The English translation of the piece I did for Svoy.ru for Sia's Birthday.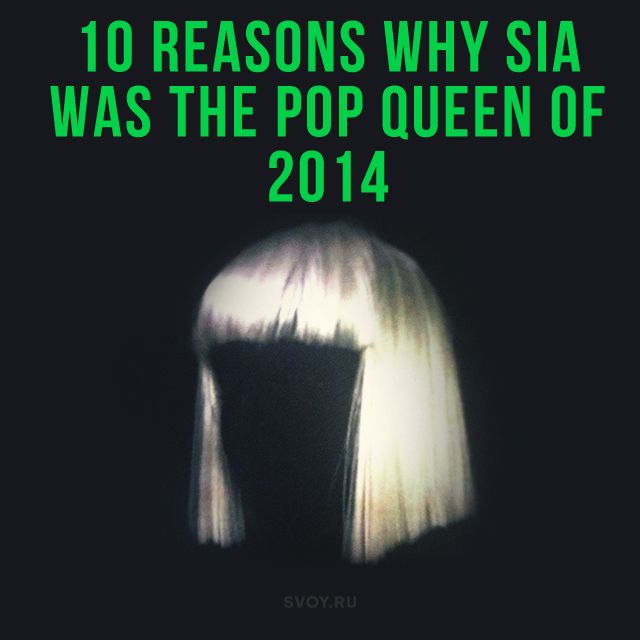 There are artists who are presented to us just like a new set of the 'Happy Meal' toys: all wrapped in the nice packaging and shipped to the music McDonaldses of the world. That's how we get to know people like Rita Ora and Meghan Trainor. And then there are people like Sia, whose quest to the same tops of the same charts is way more interesting (and ultimately – more satisfying) to witness.
Sia Furler's whole career has been a snowball that was getting stronger and bigger since her trip-hop debut in the late 90s. Some people learned about her from these early releases, others – when her song 'Breath Me' was chosen as the soundtrack for the epic 'Six Feet Under' finale. Some liked her 2010's colorful indie-pop record 'We Are Born' and for others she was simply the voice on the David Guetta and Flo-Rida's records. And, finally, some knew her as the hit writer for artists like Rihanna and Britney. And everyone would agree that her journey to the top of Billboard's Songs of the Year list was filled with struggles.
Sia's Birthday is a great moment to look back at the reasons why she gets the title of 2014's pop queen.
1. She released the best song of the year.
There are fun songs about partying. There are sad songs about hangovers. And then there are songs like 'Chandelier', where laughter comes from the pain, nervous breakdown is the bar's specialty, tears fill the shot glasses and your shoes are long lost somewhere on the dancefloor. Sia managed to tell a very sad story about a party girl, who can't 'come down from the chandelier' (meaning: break the vicious circle of partying), and she did it with quite simple yet powerful lyrics. The result was an overdramatic, epic and even heartbreaking song: it's a rarity when we get a pop song of such caliber and it's even rarer when such songs get worldwide recognition. With 'Chandelier' the world finally learned that Sia is so much more than a pop-songs-producing-machine and that she is an independent artist, whose charisma can overshadow a lot of her much more glossy pop rivals.
2. She made a creepy video for it.
There were a lot of interviews before the 'Chandelier' video premiere, where Sia stated that she doesn't want to be a pop star – she just wants to make music and share it with the world. That's why she was wearing a paper bag on the 'Billboard' cover and why 11-year-old Maddie Ziegler replaced her in the video for Sia's potentially biggest solo hit. The video is creepy for various reasons. First of all, Maddie was a star of the 'Dance Moms' reality show – the one about parents obsessing about their children's success (and it's easy to see the show's influence in the 'Chandelier' video). Secondly, the imagery of a girl dancing around in a shabby apartment in the skin-colored bodysuit with the crazy smile on her face would be a much better fit in some horror flick rather than next to a Rihanna video on MTV.
3. She released a good album.
«1000 Forms of Fear» was hardly a revolutionary record, but there's more than just «Chandelier» to it, too. There is a booming ballad «Big Girls Cry», as well as playful love song with a sarcastic title «Hostage». Bouncy «Free The Animal» features Sia's trademark 'who-oh-oh-oh' that have been processed through an electric shredded just to be gun-fired at the listeners. The melody in «Fire Meets Gasoline» is a twin sister of «Chandelier», but lyric-wise it's no longer a story about a tragic partygirl but a fire-breathing love story. The album finishes with the 7-minute-long dramatic «Dressed in Black» that should provide a decent valuable dosage of catharsis to everyone, who felt the lack of the true emotions on the current pop landscape.
4. She inspired a lot of people
Obviously, from now on «Chandelier» is a frequent 'guest' on any singing competition: from The X Factor UK to The Voice Russia. Secondly, there's hardly a shortage of 'Chandelier' covers on the YouTube: my favorite comes from the 'Russian boy with the goat'. But Sia's success in general is also an inspirational story about a person who worked long and hard and eventually 'made it'. In one interview Sia mentioned that just 4 years ago she was doing drugs and was thinking about killing herself, but came to her senses, got clean and started writing for other popstars –to become a popstar herself just when she hit 39.
5. Her haircut is its own celebrity.
Sia obviously knows how pop works behind-the-scenes: by the time she was ready to release «Chandelier», she clearly understood the worth of a well-picked symbol in the pop culture. And that's how her bob joined Bowie's lightening, Michael Jackson's glove, Madonna's spiky bra, Lady Gaga's claw and Nicki Minaj's 3D-butt. The bob began its rise to the fame in New York in the 'Chandelier' lyric video, then graced the «1000 Forms of Fear» album cover and eventually 'guest starred' on Sia's famous friends and fans' heads as a wig.
6. She turned her back on the public.
Sia's main prank of 2014 was her recusance towards facing the crowd: she performed «Chandelier» with her back turned to the viewers, while the guests entertained the public. There are tons of underlying themes to be found here: Sia's unwillingness to play the 'pop game', her aspiration to switch put more attention on her voice and a banal attempt to shock, that makes one think of Lady Gaga's early tricks. The shtick did get boring quickly (at the end of the day, everyone could just Google her face and she did promote her previous five records with her 'face on'), but it was all worth it: the «Chandelier» got all the attention it deserved.
7. She made a lot of celebrity friends.
She started off with Lena Dunham dancing on stage during her «Chandelier» TV performance. Then Jimmy Kimmel did the same. And this fall Jim Carey himself spoofed the video during his appearance at the «Saturday Night Live».
8. She crafted yet another magic bag of hits for an army of popstars.
No idea when this Aussie actually sleeps, but it is known that apart from her own album, she also visited studios of the whole army of pop artists this year, writing for Shakira, JLo, Kylie, Cheryl, Brooke Candy, Eminem, David Guetta, Lea Michele, Gwen and Maroon 5. And that's a list without the upcoming 2015 releases!
9. She made some new big collaborations.
Sia and David Guetta's «Titanium» was and still is one of the EDM's finest moments. This year she worked with the French dance guru once again and also sang a chorus in the epic Eminem's track «Guts Over Fear», that saw yet another exotic reality TV star in its music video – Canadian model Chantelle Brown-Young.
10. She didn't forget to smile.
«1000 Forms of Fear» promotional campaign was hardly a cheerful one, so Sia made a right move by releasing a 100%-uplifting tune «You're Never Fully Dressed Without A Smile»  for the 'Annie' OST. And she eventually started walking down the red carpets again, and doing it with a big smile on her face. Well, she earned it.
Tags:
sia