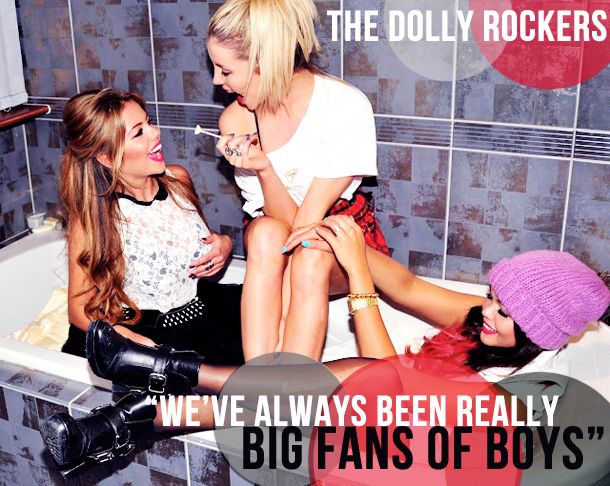 "What is that? Did some hooker give it to you?" – Daniele returns the red-stained note to the seller. It's Friday night around 9pm and I'm in London's Soho with the The Dolly Rockers – British pop trio with Lucie, Daniele and Sophie rocking their 'girly rockstars' image to the perfect ten (it's Lucie's Birthday tomorrow, so there's a celebration to be had after our interview). Right now we're in a tiny iphone-cases-store: Lucie's getting her 1st ever iphone cover as an early Birthday present and I get one with the British flag – 'Something to remember from London' as Daniele put it. Once we're done harassing the seller and Daniele's done lecturing him on his ridiculously high prices, we're off to find a quite spot to chat which (how surprising) turns out to be impossible in that area. At some point we stop at a random burlesque show as Sophie convinces us it's a 'fun drag show'. We stay at the bar for the whole show (which involves a very amusing-looking old fella and several middle-aged women in bikini dancing around him) and then re-locate to a sushi spot for a wine-filled conversation.
By then I knew by fact that I was right about following these girls' career for the last 4 years – ever since I saw their hilarious 'how-to-wire-a-plug' YouTube video (which is sadly offline these days – most likely due to the fact there was a line-up change with Daniele replacing Brooke). 4 years into the game and The Dolly Rockers are still one of the (if not simply The) funniest and most colorful girlbands out there. The trick here is rather obvious: there's nothing fake or manufactured about the trio, as they've basically three friends who just happen to also record music together (under control of pop guru RedOne). And now's the good time to get to know the girls as they promise to finally release new music this year: it's really been too long since their 2009's tongue-in-cheek classics 'Gold Digger' and 'How Did I End Up With You?'. And as the girls played me one of their new RedOne-produced songs, I can assure you: The Dolly Rockers have some pretty sick bangers up their sleeves. You can read our interview below: there's all you need to know about working with RedOne, killer hangovers, drinking games and the importance of looking like a proper popstar at all times. Getting dollyrocked felt way too good.
Also the Russian version of the interview is at Rolling Stone.