It's hardly a bold move for a pop singer to record an album dedicated to love. But when it's Taylor Swift we're talking about, the world goes silent and listens carefully. As by 25 this country-coquette with the looks of young Nicole Kidman managed to write her own list of the love affairs with A-listers, which includes Joe Jonas, Taylor Lautner, John Mayer, Jake Gyllenhaal and Harry Styles (and these are only 'official' romances we're talking about). I dissected '1989' as the 'How To Date Taylor Swift' guide for Interview Russia magazine back in November 2014 and here's the English version (as you never know when you may start dating Taylor!).
The original Russian version: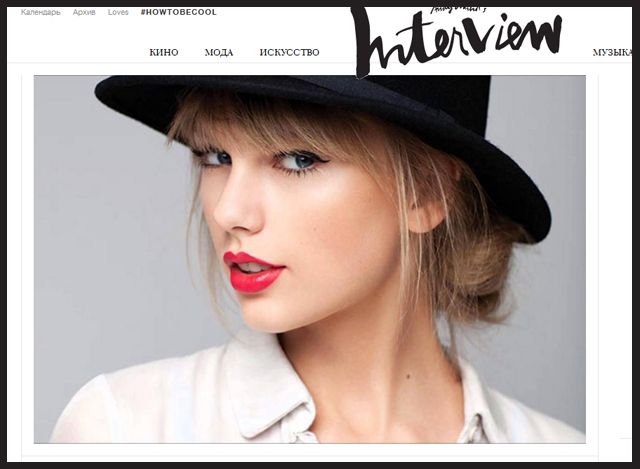 Are you the right fit for her?
First of all you need to figure out what types of guys our country-pop-princess is into. Judging by «Style», the boyfriend of her dreams must:
a) Look at Taylor with that "James Dean daydream look in your eyes".
b) have "long hair, slicked back" and wear "white t-shirt"
c) Pick her up at midnight sharp
d) Even if "you been out and about with some other girl", you should make Taylor sure you "can't stop thinking about her".
The rest of the portrait looks something like this: her Mister Perfect wears «suit and tie» («Blank Space»), «he's so tall, and handsome as hell» («Wildest Dreams») and has «green eyes» («Wonderland»).
Basically, the good girl Taylor is drawn – what a shocker! – to the bad boys.
Is she the right fit for you?
This is what Taylor The Girlfriend looks like in her own words:
a) «The rumours, are terrible and cruel, but, honey, most of them are true» («New Romantics»)
b) « I got that red lip classic thing that you like» («Style»)
c) « I could show you incredible things: magic, madness, heaven, sin» («Blank Space»)
d) «I can make the bad guys good for a weekend » («Blank Space»)
e) «Got a long list of ex-lovers, they'll tell you I'm insane» («Blank Space»)
f) «I'm a nightmare dressed like a daydream» («Blank Space»)
g) «People like me wanna believe you when you say you've changed » («All You Had to Do Was Stay»)
How to make her fall for you.
Direct instructions are taken straight from «Wildest Dreams»:
«Say you'll remember me
Standing in a nice dress, staring at the sunset babe
Red lips and rosy cheeks
Say you'll see me again even if it's just in your wildest dreams».
So promise her you'll call her the next day. That should work.
Don't be afraid of the fact that she's a star.
Yes, she is constantly followed by the paparazzi and fans, but in «I Know Places» she promises she knows places where "we won't be found".
"Just grab my hand and don't ever drop it
My love, they are the hunters, we are the foxes and we run"
A romantic destination? That would be New York.
Seems like Taylor owns more houses than she did release hit albums, but she's mostly attracted to the bright lights of The Big Apple. "1989" opens with her ode to New York titled «Welcome to New York», so that's where you'll most likely go on vacation. And while Taylor's enjoying the view, you can figure out her attitude towards The Most Important Stuff:
«Like any great love, it keeps you guessing
Like any real love, it's ever-changing
Like any true love, it drives you crazy».
I say get her a ticket to a Broadway show.
Love is life.
Real love for Taylor is the whole life («This Love»):
«This love is good
This love is bad
This love is a life back from the dead».
Love is a burned toast.
In «You Are In Love» Taylor gives us a detailed description of the perfect relationships:
«Morning, his place, burnt toast, Sunday
You keep his shirt, he keeps his word»
Love is a nightmare.
But sometimes love means wandering in the dark woods, where every trail gives a false yet heady hope. That's the love Taylor's singing about in a hypnotic adult fairytale «Out of the Woods». Such romance can be fun («We decided to move the furniture so we could dance ») and passionate («The rest of the world was black and white but we were in screaming color»), but the breakup will be epic and bloody:
«Remember when you hit the brakes too soon
Twenty stitches in a hospital room
When you started crying
Baby, I did too»
However eventually the sun will come up with «the monsters turned out to be just trees». Meaning: she'll probably quit first.
Although the breakup will be hard for her…
… she'll surely find a couple of exquisite metaphors for the heartache («Clean»):
«The drought was the very worst,
When the flowers that we'd grown together died of thirst
It was months, and months of back and forth,
You're still all over me like a wine-stained dress I can't wear anymore ».
How will she feel once she's done with you? «I think I am finally clean». Ouch!
She knows when to acknowledge her mistakes.
«You still don't know what I never said», – Taylor cries in «I Wish You Would». And then scolds herself: «I wish you would come back, wish I'd never hung up the phone like I did», and eventually confesses: « I miss you too much to be mad anymore».
Quite an impulsive girl she is.
If you're leaving – don't forget to shut the door.
«All you had to do was stay», says Taylor in «All You Had to Do Was Stay». But if you did leave, then leave for good:
«People like me are gone forever when you say goodbye ».
Or?..
But you can still try bringing her back – she'll be pleased with that. In «How You Get The Girl» Taylor explains how to arrange a perfect comeback: first you have to promise to love her forever, then offer to go fix her broken heart, then show her the photos from your mutual 'happy past' and call yourself a madman for leaving without telling her why.
Casual encounter after the breakup will be brutal.
If the relationships didn't work out at the end, don't even bother trying to hurt her by showing up with your new girlfriend:
«My ex-man brought his new girlfriend
She's like "oh my God", but I'm just gonna shake it
And to the fella over there with the hella good hair
Won't you come on over, baby».
And he will come. They always do.
Summing it all up, the romance with Taylor Swift consists of some very cinematic courting, followed by highly poetic torments of love, a hard breakup and a lasting aftertaste. And don't forget that after everything's over she'll definitely write a song about you and sing it on the world's biggest stadiums. Okay with all that? Then start getting ready by finally getting «1989» – last year's best pop album.